tidal detours and delays, the unforgiving sea, caged paths and a town with good taste
29th June 2013
miles completed: 807
miles to go: 251
I want to walk from Dale to Neyland, just before the Cleddau Bridge crosses the river at Milford Haven. The first bus to Dale from Milford Haven is at 9:22 to get to Dale just before 10am, but to catch this I must get the 8:15 from Neyland. Unsure of how long it will take and where the parking and bus stop is at Neyland, I leave all the roof blinds open to wake me and set the alarm early, and am on the road at 6:30am. Food will not be a problem this day as I intend to get a good breakfast at the beach café in Dale.
On the radio as I drive there is a piece about a private innovation park in Caerphilly, where the owner talks very cogently about the needs of entrepreneurs and in particular managing a lot of the paperwork. This is something I wish universities could manage better.
At Lancaster, before we licensed the technology, the University encouraged Jo and I to set up a company to exploit Firefly, the intelligent lighting we had developed, but instantly you are dropped into a world of forms for Companies House, Inland Revenue, etc., many of which are nil returns, or simple copying, but take time to make sense of. I had done all this years before with aQtive and vfridge, but then with enough venture funding to pay an accountant and lawyer to help us manage. It would be so simple for the university to act as company secretary and take this load, literally a few hours a year for someone who knows the ropes, and let the academic/entrepreneur get on with developing the core products and business.
Another very relevant item was about a new 'click and collect' point at St David's Centre, Cardiff.  This means that you can order things online and then collect them in the city centre in your lunch break, rather than come home to one of those postcards saying "we tried to deliver, but you were out". This was precisely one of the services I advocated for the electronic village shop twenty years ago!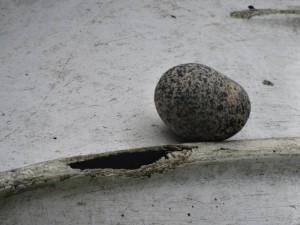 Finally, also very relevant given the themes of energy use and transport that have recurred in the walk, a news report about the government's infrastructure plans, which are based on various projections including a year on year increase in car use. This sounds sensible, whether or not desirable; we all know there are more and more cars on the road. Only that is wrong. Car use in the UK maxed out in 2002 at about 500 cars/vans per 1000 people and 8000 miles per car. The same thing happened in the US five years earlier. It turns out that at some point pretty much everyone who wants a car has a car, and they drive pretty much as many miles as they want. From an ecological point of view we may want to reduce this amount by improving public transport, but irrespective of this, the numbers are not growing. Yet the government wants to build more roads.
Brunel Quay, where I park the van, is so named because Neyland grew up when Brunel intended to create a transatlantic port at the end of the Great Western Railway. Although the grand vision never materialised, the town is here because of that vision.
An information board also talks about a rare hexagonal post box, and as I go to look for the bus stop, there it is just across the road.
I have plenty of time as it only took me 45 minutes to drive from St Davids, so I write for a bit, but of course write for too long and in the end pack my rucksack in a hurry and rush for the bus.
The bus driver says the easiest change for Dale is at Tesco. I wonder if it has one of those little in-store cafés, to get a cup of tea, or even a quick breakfast to save time at Dale, but sadly there is just a coffee machine … and by 'coffee machine' I mean 'coffee' – no tea.
At the Tesco tobacconist I buy a newspaper. The man serving asked where I was walking today and, when I said Dale, told me he knows it well as his parents originally came from there.
"I do pilgrimages every year," he said, "one to St Davids, one to Fishguard and one where you went yesterday".
"I didn't know I was on a pilgrimage route," I say, and he replies, "no, just mine."
A personal pilgrimage to places of individual significance.
So eventually, I get to Dale and have the long (since 5am) anticipated breakfast at the 'Boathouse Café and Shop'. Leisurely eating and more writing mean it is almost eleven before I leave, and I set off for the causeway to cross the estuary.
On the water bright-sailed windsurfers were already out and a few small yachts already launched from the slipway. Beyond them, in the wide bay, more yachts and leisure boats bobbed under the sun with the refinery across the waters a heat-mist-softened backdrop.
However, when I get to the start of the causeway there is a sign explaining it is only crossable within three hours of low tide. I knew that would be the case when I got to the stepping stones at Sandy Haven, but had not realised that this crossing was also tidal. I asked a local man as I was walking in sandals and didn't mind getting my feet a little wet, but he said no, the water on top of the bridge and stepping stones leading to it would be up to my thighs and with a strong tidal flow, which would sweep you off your feet. It was still half an hour before high tide, so even if I tackled it a little before the recommended time, it would still be several hours before I could continue. If I had realised I could have driven to Dale very early and done the tidal crossings then taken a bus back at the end of the day.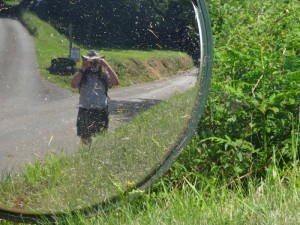 It was only a three mile detour and about half on roads where I would walk quickly, so I set off.
An hour or so later I looked down from the other side, such a short distance that takes so long. I imagine people in earlier times, before any of these bridges, waiting for low tide to attempt fording rivers or having to push and cut one's way through undergrowth and forests upstream. The odd extra few miles seem far less significant.
In fact, the way had been uneventful, starting out along the road to go upstream and then through paths and farmland back downstream again. There was a large field that I at first thought was set-aside land left to grow as flowery meadow, but then realised was flax.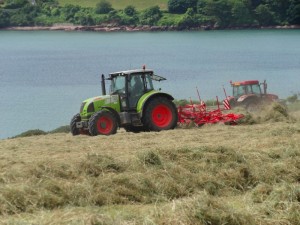 Although there are plenty of signs in this area, the alternate high-tide/low-tide paths made signage confusing; not for the first time I wished there was a distinction on signs between clockwise and anticlockwise routes. I know it seems obvious, and is when you are on the actual coast, but inland, even a short way, it is not always clear from which direction you are re-meeting a path. This was not helped by the exit from the large flax field. I had seen a farm gate, but there was no hint of a sign, so I scouted the length of the field, finding no other way. Happily a farmer in the next field saw me looking puzzled and directed me back to the gate. Sure enough, hidden from view until you were right by it, was a stile and sign nestled amongst the hedge.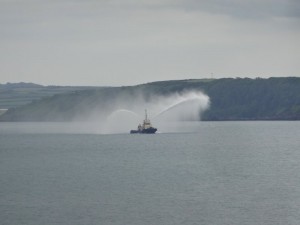 The path now runs along the clifftop, soft red sandstone, thickly covered with vegetation. Sometimes clear views over the seas, where a boat sends hose sprays into the air, the wind-spread water like translucent insect wings. I assume this is some sort of testing of equipment, maybe a fireboat or one for dispersing oil in the case of a spillage. At other times the shrubby bushes and trees rise around you, shutting you off from the sea and all but the way ahead and heat-risen flies.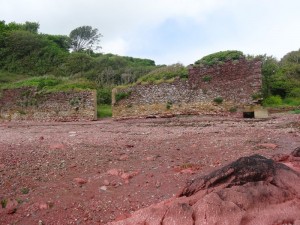 At one small bay, Monk Haven, there are the remains of an old wall across its entrance, a huge gateway in the middle, but one end curiously ending, not meeting the far side of the bay. If I recall correctly, I was later told that this had been part of old abbey lands, so the wall would have marked out the bay as belonging to the abbey, but I still don't understand why it appears incomplete.1.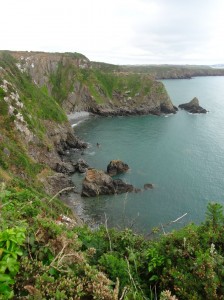 After passing more old wartime buildings and guidance beacons for the ships coming into Milford Haven, I come to Sandy Haven.
At Sandy Haven there is another tidal crossing. It is ten past two when I arrive, and based on the tide tables it should be crossable in forty minutes. A man is coming up from the shore with his dog, so I ask him where the stepping stones are.
"There," he says, pointing at the river between the opposite bank and where we are standing. It does not look hopeful, but he assures me that the tide is going out quickly; a boat that is now aground was afloat just a short while earlier when he was throwing a ball for his dog.
He tells me about the area, how the ships would come in his father's day, beach here at low tide and the horses and carts would come to unload and load them. The stranded remains of some of these river boats can still be found a little upstream.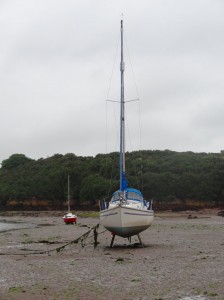 The tides move fast; even as we speak the boat that had only recently come aground is a full ten feet from the water's edge, and waves can be seen above where the stepping stones lie just below the surface. Although I say waves, it is almost the opposite, a large standing wave that leaves the surface smoother than the surrounding waters, just like the slightly oily streak after a boat has passed and the bow waves settled, or one of those long-exposure photographs that smooths out wave or waterfall.
One day the man and a friend went out in a small boat on a calm day like today, but then the tide turned and an offshore wind came in and it was all they could do not to be washed out to sea or flipped over into the sea. They made for some shelter, but then, in a moment, it stopped again, as if the wind and rushing waves had never been.
Another friend had not been so lucky. Three young men from the village had been out fishing. It was near midnight as they made their way back along the shore and up the cliff path. Then a freak wave struck, dragging two of them into the sea. One managed to grab onto the rocks from where his friend hoisted him to safety using a fishing rod. The other was lost, his body washed ashore the next day.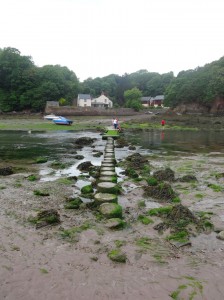 The stepping stones are almost clear, a few bare-footed children in bathing costumes are already playing on them, and I see a couple on the far side tentatively waiting for the last of the water to clear. I sit on a slipway and write, and then notice the couple have crossed with their dog, and I start chatting to the man about dogs and walking, until the woman begins to look impatient to be off.
The way now leads past the large oil terminal to the west of Milford Haven. I am expecting to be walking, maybe, on a service road, alongside a chain linked fence, looking onto tangles of bright painted pipe-work. Instead, the path is more of a heavily wooded cliffside path, often quite overgrown as it is clearly not well trodden.
I have been told, and would have guessed anyway, that most people walking the coastal path stop at Sandy Haven and go straight to Angle, the sandy bay opposite, skipping a day of walking past oil terminal, power station and road bridge. However, I am on a mission, treading every mile of the Coast Path, pretty or not.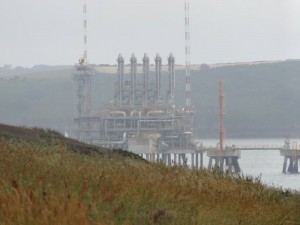 In fact, you can hardly tell that you are close to anything industrial, except when occasionally you see across the water to the oil refinery at Pembroke. This reinforces the slightly ethereal, other-worldly feel of the industry here, which struck me when I first glimpsed Milford Haven and Pembroke from the path in St Brides Bay. The towers and tanks are frequently seen at a distance, in a slight haze, as if a mirage or projected in Victorian theatre illusion, but when you get close there is nothing solid, nothing to touch or see clearly.
I often walk quickly, because the afternoon heat has brought out the flies in the dense undergrowth, and, if I stop, they gather quickly.
After about a mile of this, the jetty for the terminal begins to appear, with vertical stacks that reminded me of the missiles rising in the Stingray introduction, "anything can happen in the next half hour".  A sign says, 'Danger Keep Out, unsafe structures & Deep Excavations', and some sort of concrete foundations can be seen. I don't know whether this is to do with past oil activity, perhaps semi-sunken tanks, or with wartime batteries.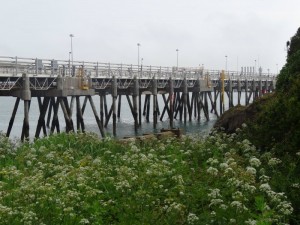 Eventually I do start to see parts of a chain linked triple razor-wired fence and oil tanks beyond. It is real.
Then there is a place where the oil and gas pipes cross the path to make their way out to the loading jetties. The fences become more imposing, tall green metal paling with electric fencing atop, and the path drops below the concrete jetty and then rises back on concrete steps the far side.
Beyond this the path runs for some time along concrete and tarmac paths amongst shrubby woodland before emerging past a fence topped with medieval-looking wheeled spikes, and into the rather superior housing at the edge of Gilliswick Bay and the outskirts of Milford Haven.
Gilliswick Bay is the home of Pembrokeshire Yacht Club, so boatyards of leisure craft sit on the shoreline whilst oil tankers pass through the wide reaches of, according to my map, the 'Man of War Roads'.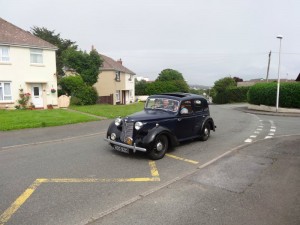 I am now in a built-up area, steps lead into Hakin. I was told here was just one 'rough' area of Milford Haven, and I can remember it began with 'H', but there are two areas to the west of Milford Haven, Hakin towards the sea and Hubberston behind it, and I cannot recall which it was. The steps lead to a point where on the left appears to be council housing and to the right a private housing estate. A car passes, one of those black 1940s taxi-cab-style cars that my Dad drove when I was little.
The houses of Hakin are individual. I see a tile-fronted house, another with a steep, stepped, slate roof that would have looked more at home in the Alps, or maybe Holland, and another with a sort of concrete bridge leading to a first floor garage; goodness knows the fire and building regulations for this.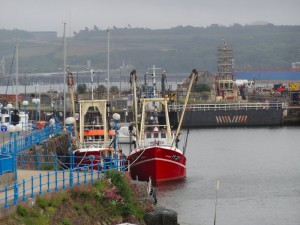 Coming into Milford Haven docks, where I had waited for the bus at Tesco in the morning, I pass the Cleddau Community Church in top-floor premises above a warehouse building, and in the water 'Jenna's Island Barge for hire'. The latter is a flat-bottomed barge with a crane on it. I have seen similar things before, but did not know they were called 'island barges'.
Strictly the Coast Path leads one street in from the quayside (why?), but I ignore that and walk the quay, to see the boats and in hope of a café. I am satisfied in both with forests of yacht sails and a cheese and ham toastie é with salad, positively healthy.
Looking at the map now, I can see that the 'proper' path is through the shopping street at the top of the hill above the quay. As I passed off the quayside, there was a path leading up the hill, but it passed closer to the waterside, initially down a wide path that may have been a disused railway line, but then along a less salubrious public footpath behind houses, where, from the abandoned cans, the local teenagers go to drink their cider and beer.
Eventually I come out into what appears to be another of those watersheds between council housing and private housing; on a corner on one side a pub with washing hanging in its yard, on the other a general store and off-licence. Outside the latter was a man in what appeared to be a full suit and a lady in an evening gown, but I assumed the latter was really some sort of summer dress, until rounding a corner and starting down a lane, I see the Pill Social Club and a bridal party about to enter their reception. One of the bridesmaids looks at me as I take a photograph, a "don't mess with us" look on her face.
Coming now down the hillside again, towards the water, four boys accost me, two with home-made bow and arrow in their hands, every bit like William and the Outlaws.
"Where are you going to?" one asks.
"Cardiff," I reply.
"That's a long way," he remarks, and then one of his friends adds, "five miles".
"A little further than that," I correct.
"Can we come too?" they ask.
"I'm afraid not," I say, "and it's a long way so I'd better go on."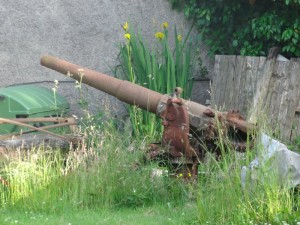 The road crosses the river at Castle Pill, near the site (from the map) of an old castle. A small group of houses stand clear of the river on tall retaining walls, a slipway between and boats sit on the mud below. The path stays with the road as it cuts steeply up the hill the far side, before cutting across inland farmland to skirt the next oil refinery. Partway, I pass a junk-filled farmyard, with some piece of machinery that looks at a distance as if it is a gun. The reason for this becomes obvious; it is a gun, a 60 or 80mm gun that would maybe have sat on the foredeck of a coastal military vessel during war, now rusted and (I assume!) unusable.
I see the oil terminal approach, its massive tanks standing tall above the farmland, but again, as I get close it disappears, with only a rare glimpse of rusty metal palings and triple razor wire to hint at its presence. Large white and black river signs help the ships to navigate the channels, like those I'd seen the day before near Dale, and then, in occasional glimpses, the brightly coloured pipework, blue and orange/red, of the loading jetty appears.
Getting closer to where the pipes run out to the jetty, security tightens with CCTV cameras above double layers of fencing and then, like something in airport security, a metal tunnel, electric fencing to either side and above, to lead you over the lines of pipe that run beside one another down the hillside and out to sea.
The secure walkway reminds me a little of the An Turas installation beside the ferry pier on Tiree, except that here the metal walls and floor make a deep groaning as I walk across; below my feet, unseen, thousands of gallons of petrol and cubic metres of gas flow past every second.
A little further on a bush breaches security, its trunk and branches knitting back and forth through the ageing chain link.
Then another security bridge over the second pipe run. It is slightly less major, a simple chain link above and to the sides, and metal grating beneath your feet, you can see the pipes through the gaps. Many relatively thin pipes make their way up and down the hillside. I'm not sure of the difference between the two pipe runs and the different levels of security, except that this one appears to be private and the other port authority.
A little further again and a final security bridge, but this time without even a top cover, just chain link sides and wide-gapped metal mesh running over a road leading to the facility. The view down through the metal grid to the road below could be disturbing for those with vertigo. The man with the dog and impatient wife at Sandy Haven had mentioned a place where the dog was scared to cross and had to be carried; perhaps this is it.
Eventually, more woody paths, wider and more trodden as we approach civilisation, lead to Hazelbeach and Llanstadwell, ribbon settlement along the waterside leading towards Neyland. Highlights include 'Jones Casa', in appropriate Mediterranean style, a beautiful racing-car green VW camper and jaunty angled gravestones of St. Tudwal's church.  Like Dale church it has one of those vertical half-steps part way along the tower that looks almost as if a narrow tower and wider tower are superimposed, although this is unrendered stone.
And I almost forgot the binary house 111.
Neyland itself has a small prom and beach to the west before coming to Brunel Quay, where I started the day and the van is parked, on the east side. On the beach a family potter, the mother and daughter picking things from amongst the pebbles, and the boy kicking at a smouldering mound, I'm not sure whether from a beach barbecue they had lit or the remains of a forgotten fire they had come across.
Father stands looking on, then, as I pass, shouts a greeting; I didn't catch the words, but I wave and say hello back.
"You look cool," the woman shouts.
I like the people of Neyland. They have good taste.
And so, eventually, past a trio of flags – Union Jack, Welsh Dragon and Yellow Smilie, and a Masonic Hall, back to Brunel Quay, the red postbox and the van, and in time for a last fish and chips at St Davids.
The wall is listed, according to the

British Listed Buildings

website, and according to '

Blue Sea Surf

' it marked the boundary of the

Treewarren estate

[back]