candles for peace and fortifications for war, a Twitter contact and a volunteer coastwatcher, a tantalising isthmus and a giant popgun
28th June 2013
miles completed: 801
miles to go: 267
I have to get up early to drive to Dale in time to catch the bus. I'm not expecting anywhere to buy food this day, so call into Nisa to stock up, mainly with near out-of-date half-price things as I'm planning to eat them all today.
On the radio as I drive there are reports first about Balsam Bashing in the Dee valley, trying to get volunteers activated to attack the 'alien' species that are devastating the indigenous ecosystem. I have spotted significant amounts of Himalayan Balsam as I've walked around, often in unexpected places, far from gardens or built up areas from where you'd expect it to spread. As I heard it, I recall the 'Aliens' notice near St Dogmaels.
The other major item was a Joseph Rowntree Foundation report, published that day, which looked at the items needed for 'basic living'. It found these items, food, heating, etc., had gone up 25% since the beginning of the recession, far more than the headline inflation figure; that is the inflation rate for the poorest is far greater than that for the richer.
They interviewed someone high up in the Citizens Advice Bureau, and a working mother who is earning £16,000 a year, but also volunteering to give advice to many worse off still. She said there was nothing left to cut, the things they were wanting were not holidays or other luxuries, but simply to be able to afford to keep warm. I think of George Osborne, with his £4 million fortune and £10 burger, for whom austerity will mean choosing a slightly less vintage wine. In South Africa in the apartheid years the white government could not conceive of life for the black majority. Here it is not colour that divides, but in so many ways our government is just a different species to those who are suffering most.
A few days later, in the Western Mail, there is an article (Western Mail, Sat 29th June 2013, page 1:'Scurvy and rickets on rise in poor-diet Wales'; and page 5: 'Diets "worse than in the war" bring back scurvy and rickets') that says scurvy and rickets are on the increase in Wales, diseases of malnutrition that had seemed to be a thing of the distant past, but now re-emerging as nutrition is worse than during the years of wartime rationing.
Having parked, and failed to find where I put the Garmin after changing its batteries the night before (later turned out to be at the bottom of the rucksack where I'd put it so it wouldn't get lost), I catch the bus at Dale.
On the bus, the driver and two regulars exchange banter. As I've seen before, these coastal walkers/tourist buses are a lifeline also for locals. The two ladies are from Milford Haven and off for a day out (cup of tea!) at St Davids, so, like me, they change buses at Marloes, but we are now further from their regular haunts, so they do not know the next driver. They tell me that they know the first driver's brother even better as he drives one of the buses to Milford Haven that they catch all the time.
At St Brides I go into St Bridget's Church. The notice on the door states that it is always open during daylight hours and says:
Come in – Make yourself at home – Have a look round
Light a candle as you reflect and pray
So I do.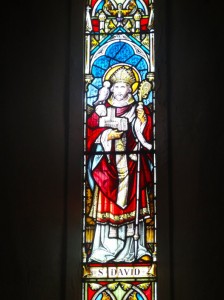 At the back are two windows, one of St David and one of St Bridget. St David is in full ecclesiastical garb and holding his cathedral cradled in his right arm, as bishops are always portrayed in stained glass windows. Given that, according to the stories, St David was an ascetic and wore animal skins, the bishop's robes seemed a slight reconstruction. St Bridget's robes were no less ornate, but I don't know her story. Instead of a cathedral, in her right hand she carries a lamp.
Looking to the left, behind the solid stone font, is a window portraying Christ the shepherd, and he holds a lamb in his arms. I was reminded of Skirwith Church, nestling under Cross Fell in the Eden Valley, where we lived for many years. Wainwright is a little scathing about its tower as a small steeple is attached to the top of a square tower; the story is that the landowner was miffed because a neighbour's church was a little higher, so added the steeple in a fit of 'keeping up with the Jones's'.
I had also heard the main window at Skirwith disparaged for being twee as it represented Jesus with children gathered round, which reminded me of the Sunday School pictures portraying the same scene. The images of Jesus were clean-shaven and blond-haired, set against a verdant English-like landscape; all very Victorian. But, however inaccurate in terms of clothes and very non-Middle Eastern physiognomy and landscape, still they were a great reminder of the way Jesus invited the children to come, and being too young to care about tweeness or historical precision, they said that I too was welcome.
However, my favourite part of the Skirwith window was the way that Jesus held a small child in his arms. He stood, his right arm bent in exactly the same stylised gesture you see for bishops in stained glass everywhere, and indeed St David in the window at the church here in St Brides, but instead of a cathedral, a small child sits there. What a potent image for the one who said that we all have to become again like children if we are to come to the Kingdom of God.
Inside the church are various notices about the candles; one seemed particularly pertinent:
Pilgrim
as you pass by
lighting a candle
of hope
for
peace
in our land
and throughout the world
Pray for
peace in St Bridget's Ireland
peace in a world of conflicts
peace in your own heart
and may the peace of God
go with you
as you leave this hallowed place
I think of the news: moves to arm the favoured rebels in Syria, US troops redeployed in Iraq to prevent weapons getting to the less favoured rebels, patriot missiles arriving in Jordan; pray indeed.
There is also is a sonnet to "the Madonna of the Cherries".  From the words, this is clearly a multicoloured statue or window, but I cannot see anything that matches the description in the church.
Outside the church I meet a couple coming in.  They are experienced walkers, having done the Camino trail in Spain. They ask if I have a religious aspect to my walk, am I visiting sites along the way? I always find this hard to answer as there are so many personal, professional, spiritual and secular aspects and, as in day-to-day life, there is no clear boundary: they are all life, and now they are all the walk.
I can't remember how it came up, maybe the man saw the word 'poetry' (maybe I should have put 'podiatry') on my leaflet or backpack, but it turned out that the lady had just that morning started a poem about the current crisis for those in poverty based around the metaphor of a circus. They had also heard the news about the Joseph Rowntree Foundation report, and shared in the sadness, tinged with anger at the powers that make this worse for people, not least the imposition of the 'bedroom tax'.
Back down at the water of St Brides, I notice that the rock on this side of the bay looks like old red sandstone, and have since got a small booklet, 'The Geology of Pembrokeshire' to verify this. I think the black, slag-like rocks the other side of the bay are just the same rock weathered and discoloured.
The path out of St Brides is fast and easy, some worn-down sections, but always wide enough not to force heel to toe walking. I think I will lap up the miles today as there appears to be nothing along the way but a couple of car parks and public toilets, so nothing to report and a short day blog as well.
About a mile from St Brides I meet three women coming the other way. I recall seeing them at the St Brides car park pulling on boots and rucksacks. Evidently I spent long enough there for them to walk to where they were going and come back.
We pass and, a few moments later, one of them calls out, "are you Alan?"
It is Jan, a local teacher and keen walker, who, she explains, as been following me and other Coast Pathers on Twitter.
One of her co-walkers is a student at Trinity St David at Carmarthen, the old art college there that merged with Lampeter to make the current institution. The other works on disability support, and says she has been looking at wheelchair access to the Coast Path. One of her clients is an amputee, who might find it a little easier. But I've been noticing along the way when there appear to be wheelchair-friendly sections, and they are few and far between.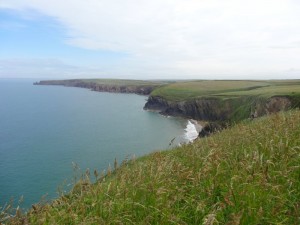 Perhaps because it is out of season, the majority of people I have met along the way have been retirees, from early sixties to late seventies. All of these clearly enjoy walking, but will become less able at some stage. I think about the discussion of mobility scooters at the Solva café, or the couple I met a few days earlier, where the lady was finding it hard going and said it would probably be the last long walking holiday.
Clearly some parts of the Coast Path will, by their nature, be tough and inaccessible, but creating disability-friendly sections will also mean they are elderly friendly, family with pushchair friendly, and, thinking about health agendas, novice walker friendly.
The day before I had wondered whether I'd have time to get further, either as far as Martin's Haven, or where the Coast Path comes within half a mile of Marloes. This was all dependent on catching the last bus back to St Davids. In the end I'd stopped at St Brides, but I wondered how easy it would have been to find the right point to leave the path. In fact, there was a very clear finger post to Marloes, and in general I've been impressed with the off-path signage in Pembrokeshire.
Although this was the closest point to Marloes village, it is called Musselwick Sands, whereas Marloes sands are on the west side of the peninsula and slightly further from Marloes itself.
After this it is another short walk to Martin's Haven where the boat trips leave for Skomer and Skokholm islands. The whole area is a marine nature reserve and Skomer is home to a large puffin population. Puffins are such glorious birds and always feel as if they would be more at home on the pages of a medieval bestiary than a modern bird guide.
I've only seen puffins on Staffa island near Iona off the coast of Mull. The girls were maybe six and eight, and we were on a holiday on Mull in our old VW campervan. We camped near Fionnphort and took the boat to Staffa. As is the normal pattern for visitors, we first went down to Fingal's Cave, which I knew about from Mendelssohn's overture, the only piece of classical music I knew well as I'd studied it for my 'O' Level Music exam.  After clambering over the massive hexagonal columns of frozen lava, we went back up to the clifftop and across to where the puffins nest.
Despite, or maybe because of, the large numbers of boat-trippers, like ourselves, the puffins seem fearless and you can approach to within a few yards of where they sit at the clifftop, waiting to plunge down into the sea below. Maybe you can approach too close. Miriam, with her camera held to her eye, and oblivious of the cliff edge, walked blindly towards them. I didn't dare move to grab her or say anything too loud for fear of startling her. Happily our gentle beckonings eventually worked.
I knew of the puffins on Staffa, although I'd never seen them, from my last year at university. I had a 'spare' year as I'd already completed the necessary Mathematics exams and toyed with various things, maybe a final year of the Computing Tripos or Theology, although I'd have struggled with the Greek or Hebrew language element of the latter.   In the end I opted for the post-grad Statistics Diploma; my heart is in pure mathematics, but I thought it would help ground me in more practical aspects of mathematics. My project for this was in cooperation with the Institute of Terrestrial Ecology, looking at early growth patterns for young puffin chicks and their impact on eventual survival. Sadly I did not get to do any field work, I was just given the numbers, but I recall that the data on the birds came from two sites, one was Staffa and the other in Wales, I think Skomer.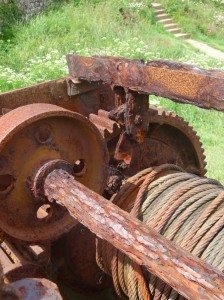 At Martin's Haven I chatted with three folks from Birmingham, who, like me, were admiring a huge boat winch. I've seen and photographed many of these around the coast; they are as ubiquitous as lime kilns, but this was the biggest by far, its thick cable still reeled in. We talked about the mechanism, the multiple levels of gearing so that a single person could drag up a very heavy boat, the ratchet to prevent it slipping back, and a large flat surface wheel, like a pulley in an old watermill, that we took to be where a leather strap would act as a brake. However, there were bits of the mechanism for which we could not work out the purpose – very frustrating!
We also talked briefly about the Coastguard Station on the top of the headland above Martin's Haven. I wondered if it were volunteer manned like the one I saw in Anglesey; they didn't know but had chatted with the person on watch there, who had a kettle and things, but had evidently run out of water. Happily it was near watch changeover time, so he wouldn't have long to wait for his cup of tea.
They also told me that there was a small shop just a few yards up the road, which sold cups of tea. The path led past the bottom of the road, so I would have otherwise passed it by. The shop was obvious and well marked if you came down the hill from the car park, but not if you are going past on the footpath; an 'off path' destination can be as little as twenty yards if it is not marked.
The shop is run by some sort of trust and mainly sells souvenirs and information about Skomer, Skokholm and Grassholm islands.
At the base of the hill is another small, unmanned information centre, run I think by the Countryside Council for Wales, about the marine conservation area, with one of those interactive exhibitions that must have cost a lot, but leaves you thinking 'so what', and knowing far less than a simple information board.
I do wonder too at the fact that these two are so close and yet not interconnected in anyway. I know they will be different bodies, different budgets, different priorities, but …
At the shop I get my cup of tea, a paper cup from a machine, but a real tea bag and, most important, real milk, as the machine just has a 'hot water' option and the staff at the shop provide the tea bag and milk. They talk enthusiastically about the volunteers at the Coastguard Station, and so I decide to take the short excursion up the hill.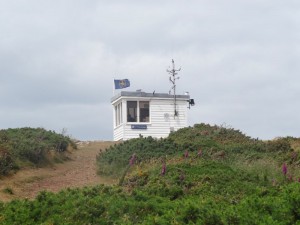 I see the blue uniformed duty officer, Jo, looking through telescopes out the windows. When I tentatively knock on the door, she invites me in and tells me a bit about the station. Some years ago, as the larger ships all got radios, the manned coastguard lookouts around the coast were becoming increasingly redundant, or at least not cost effective. The decision was made to close them.
Within a week of the closures, within a short distance of one of the abandoned stations, a small boat, one without a radio, was lost and two people drowned.
This was not enough to reverse the decision, as in any large enterprise every financial decision carries risks including fatal ones. But as a response a voluntary organisation was set up, the National Coastwatch Institute, who man the old coastguard stations, some on a 24/7 basis.
They watch for dangerous situations and keep logs of small craft passing. The logs are particularly useful if a boat is subsequently reported missing as its last location and course can be determined. Jo tells me of a recent case when a man in a sea kayak was late returning and his wife reported this to the Coastguard. They contacted the NCI lookout, who was able to see a kayak matching the description. An inshore craft was then able to go out to verify that this was the man, and that he was simply delayed, not in trouble.
They can also keep an eye on the large tankers that anchor in St Brides Bay in case they drag their anchor or in case an unscrupulous captain decides to clean out his tanks in the bay.  As this rich and sensitive marine environment is right next to a large oil and gas refinery, it is especially important to watch out for any potential pollution risks.
The NCI has no direct powers; for example, they cannot call out a lifeboat. However, they are in constant touch with the Coastguard and are able to report dangerous situations to them, or, as in the case of the kayak, may be asked to look out for something, or keep a watch on any developing situation.
As this station, and I'm sure most others, is in a remote and wildlife-rich location, many of the volunteers are also interested in wildlife, and this station, Wooltack Point, is particularly popular with birdwatchers. Jo, however, is a botanist, and indeed considered an academic career, but decided that, while she enjoyed the actual botany, the academic writing was not for her.
Having visited the Coastguard Lookout, I felt I might as well walk around the rest of the point, even though the Coast Path bypasses it. I was fascinated by the high bank that runs along the narrow neck of land that separates the headland from the mainland and guess it is an old earthwork. Looking later on the map I can see it is indeed marked 'fort'. It is clearly an excellent location, a small wall allowing a large area to be secure. Although it is now remote it was once an important centre of population.
It has been a morning, and indeed early afternoon, of interesting conversations, but my first four hours of walking has taken half the day and there are ten more miles to go before I get to the van at Dale.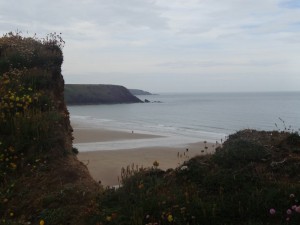 After a mile or so of sea cliffs, you see Marloes sands, a mile or more of beach spread into the face of the south-west gales. It is possible to get down in one or two places, but mostly the cliffs are high above the beach, so unfortunately no beach walking today. However, the tracks here are well trodden and usually broad, so easy walking.
After Marloes Beach you skirt an abandoned wartime airfield, its concrete runways and foundations of buildings feathered at the edges where grass is gradually encroaching and sprouting along the original join lines between its sections, so that it looks like a giant game of dominoes left to grey and fade in the rain and sun.
Then you see Dale, tantalisingly less than a mile away, but across the neck of Dale Head; I have more than five miles to go around the end. My feet hurt, it is starting to rain, and I am already tired. I am so tempted to go straight across now, but that would break my schedule for coming days and so, exhausted and wet, I continue.
Happily the rain does not continue for long, but the feet do not cure so easily. The track is surprisingly untrodden as this would seem an ideal circular walk, starting in Dale, going round the headland and back across the isthmus. Indeed, the next day over breakfast in Dale, I find a guidebook for exactly this walk.
Although I was tired and it was late in the day, still it was clear that this area is full of interesting things: the lighthouse on the end, old fortifications from Napoleonic times and the Second World War.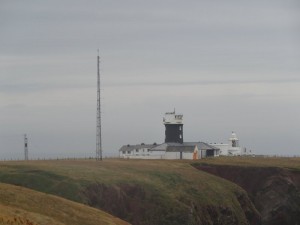 It is the lighthouse I come to first, a small automatic light now; the larger lighthouse has become a self-catering holiday let. The path cuts just short of the lighthouse itself, passing an old walled garden and then back along the clifftop. In one small bay, half buried in the sand, is something that could be the superstructure of a small wreck, or might be the rusted remains of a large water tank that has tumbled down the cliffs.
On the next two large headlands after the lighthouse are navigation guides for approaching ships. One has two diamond markers with a black and white rectangle between them, the other a single diamond marker. I assume you align these in some way according to nautical rules.  Evidently the safe approach to Milford Haven is narrow and has a sharp dog-leg, so the navigation aids are essential for safe entry.
In this section I see the first of the concrete foundations of WWII guns, and then, below, what I at first took to be another WWII structure. Two couples are unpacking their cars, evidently staying at the lower fort. Chatting to one of them, it turns out to be 18th century, one of a string of fortifications built in the wake of the Napoleonic wars and the failed French invasion at Fishguard.
On the last headland before Dale, there is a larger fort, now an outdoor pursuit centre.  According to the guidebook it was the location of a revolutionary gun that fired explosive shells. At this point it was impossible to fire the shells using gunpowder or other explosives, as this ignited the shell's charge as well. The gun sited here was essentially a giant popgun, using compressed gas to fire the shell. However improved explosives were created that did not explode on the barrel of more conventional guns, so the popgun became redundant and was scrapped.
The final turn into Dale was so, so welcome, following along a lane for the last quarter of a mile, past the Griffin Inn, with many people outside leaning on the sea wall drinking beers. However, it was late and so I went on my way back to St Davids and takeaway curry.