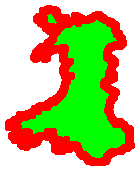 I started in Cardiff on 18th April 2013, walking East past Newport, then up Offa's Dyke and the borders, round the new Welsh Coast Path from Chester along the North Wales coast, around Anglesey and Lleyn Peninsula, down the West coast, around Pembroke and then along the South from Carmarthen, round Gower, finally ending up back at Cardiff on 28th July 2013 – my birthday!
I planed to walk for approximately 60 days averaging 17 miles per day, to allow time for writing, talks, and the odd wedding. However, my waking pace was slower than I'd hoped (although exactly what experienced ramblers told me), so ended up with 77 full or part walking days averaging around 15 miles for a complete walking day, but with some very long days (29 miles) and some quite short ones.
Key dates:
The following stages are based on where my bits of paper ran out when I was first measuring up last year, but also start-end at significant points.  I'll probably modify at some stage to correspond to the official WCP sections, or at least mark these.
Distance for this come partly from the Long Distance Walkers Association (LDWA) gpx file for the coast path and partly from the mileage chart on the Offa's Dyke Association site.
Further route information:
Wales Coast Path
Official coast path interactive map and static maps (section-by-section PDF to downloads)
LDWA page for the Wales Coast Path
Offa's Dyke
There is a GPX file and interactive map for Offa's Dyke at gps-routes.
LDWA page for Offa's Dyke.
Heights along the way
The LDWA pages for Offa's Dyke and the Wales Coast Path include profiles:This includes a route profile for Offa's Dyke: