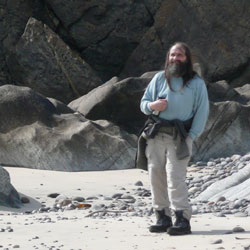 Although the two million footfalls will be mine, the walk is about community, both the local communities through which I pass, and also the global academic and technical community.
There are a number of ways you can help me, or support me, and also that I may be able to help you.
Walk with Me
Join me for part of the way, at a weekend, as part of your holiday, or maybe as your own sponsored walk.
For local communities along Offa's Dyke and the Welsh Coast Path
I'd love to meet you on the way, to learn about the issues you face, threats and successes, stories and songs, history and culture, nature and business.  Maybe you can introduce me to other community groups, maybe you have somewhere I can park my support van during one of the legs, or can offer me a lift in areas where the public transport is poor.
I may be able to help in various ways.  This may be something I do personally, in particular, I will be creating local maps; so if you have a town plan or community map that you'd like turned into an interactive tourist, heritage or cultural web or mobile app, let me know.  However, I will also be sharing what I learn with researchers, technologists and makers elsewhere, so it may be that they can offer help too.
For academics and technologists
I will be blogging and tweeting about the technical and social issues that arise along the way.  There may be ways in which I can help in your work, but also you may be able to offer solutions or ideas.  I will be developing bits of software myself (in the evenings after walking!), so maybe you would like to help me in that.
If you have technology you would like to try out, or concerns you would like me to tease out along the way, do let me know.  I am your living lab!
For everyone — sponsor me
Sponsor me with one of the charities on my JustGiving page:
health – Tenovus are a major international cancer research charity based in Cardiff and also are engaged in practical cancer care throughout Wales
care – MHA provide homes for the elderly across the country, and I will be visiting several of their establishments around the coast of Wales
homelessness – The Wallich is a Cardiff-based charity with projects all over Wales addressing homelessness, a growing problem in times of recession and shrinking state provision
Alternatively there have been a number of other Wales walks last year and this year, that are still collecting, so consider donating to one of these:
Anne-Marie "Arry" Beresford-Webb ran (yes ran!) all the way round Wales last year.  She is still collecting towards a £20,000 target on her 'Dragon Run' JustGiving page for Velindre Cancer Centre
Steve Webb walked round last summer collecting for his school St David's College (see his DragonWalk JustGiving page)
in April a team of three are aiming to walk the coast path (870 miles) in 30 days, the Wales Coast Challenge, meaning 10 hours walking each day, all in support of Help Us Learn, which funds sustainable education worldwide.