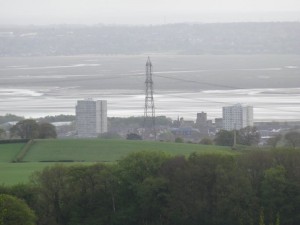 The day started with me in a Travelodge a little north of Flint on the A55 where I'd stopped after the long previous day.  As I left, the panorama was one mainly of industry and city, the next few days' walking will take me through some of the most deprived areas of Wales. And the weather forecast is for cloud and rain – pathetic fallacy?
I drive along the coast road to Llanfairfechan where I'm staying for a few days while I walk the Coast Path using the reasonably frequent train service from Holyhead.  It is strange again driving in less than an hour several days' journey ahead.
I said the service is frequent, but (i) it is less frequent at Llanfairfechan, a minor stop, than other places, and (ii) even less frequent on Sundays.  The first train of the day is at 11:08, but if you miss that the next is not until four o'clock.  I have just enough time to nip down to the Beach Hut café for a breakfast and free WiFi (open Tues–Sun, 10am–5pm).
A little paranoid about missing the train, I rush my breakfast (maybe a more leisurely one another day), and half trot back up to the station, arriving there with still 15 minutes to spare.  There is one other passenger, an older woman relaxed under the shelter, reading while I peer anxiously down the track.  Llanfairfechan is not only a minor station, it is also one of the many 'request stops' along the North Wales line.  If you are on the train you need to tell the conductor that you want to alight, and if you are on the platform, you need to 'make clear' to the driver that you want to board the train.
I am waiting ready to throw out my hand, hitch-hiker style, or like hailing a London cab, but then, about five minutes before the train is due, other people start to arrive, and with a small crowd on the platform I relax and sit on the bench near the lady.  I then realise that she had left her small suitcase on the platform, so that it was obvious there was a passenger waiting.  It also transpired she set her alarm, just in case there were no other passengers.
It turned out she was a seasoned backpacker, although not walker, recommended couch-surfing and told me about a night sleeping in the back of a car in a 'no overnight' car park.  I feel positively un-intrepid.  She also strategically plans the use of her free bus pass, planning to only travel to Warrington on the train and then on to Manchester by bus as this works out cheaper and only an hour or so slower.  She trades time for money, having, as a pensioner, plenty of the former, but little of the latter.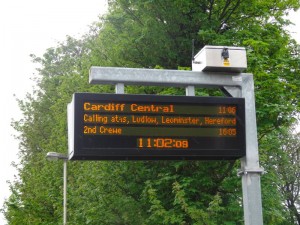 When we are on the train and the conductor comes, she pulls out a wodge of cards and tickets, wrapped in a plastic bag (to reduce weight in her rucksack, purses and wallets take up precious ounces – I think of my heavy bumbag).  This includes multiple return halves of tickets, where she has gone one direction by train and the return by bus, but will then do the opposite at another time.  It reminded me of an academic I knew who lived in Milton Keynes, but worked in Amsterdam, commuting on a weekly basis through Heathrow.  Return flights without a Saturday stay cost a lot more (a way to single out business travellers), so he would buy combinations of monthly returns in both directions and alternate use of outwards and return sections.
The conductor suggests she moves further up the carriage where there are unbooked seats, so at Llandudno Junction the seat opposite is free and a wiry man sits down; he pulls out an envelope with a combination of train tickets and football tickets – double checking he has everything for the day.  His name is John, and he is off to see the 'Hammers' play at Everton ground.  He notices my jacket is a Berghaus, and he explains that he has deliberately put on a warm fleece-lined hoodie, partly in case the expected rain and wind penetrates the stands, and partly because it does not look expensive and steal-able, "they are animals there", he says.
John has lived in North Wales for over 10 years, moving from the East End of London, via prison.  "The only way to get accommodation is to do time," he says.  As a single person it is almost impossible to get any form of local authority or housing association flat, but when you come out of prison you are instantly put into temporary accommodation and after that a flat.  From a life of drugs and petty crime, he has turned his life around, although he regrets that it is has taken him into his forties to do so.  He is grateful for his life now, living between sea and mountains, "what more could you want", he says, wondering how some of those who have lived in the area for their whole lives do not notice the grandeur around them.
He tells me about the line of rehab units along this coast, and a friend, who had recently, after 'doing time', got a flat in Conwy overlooking the harbour, and is now, like John, on a path to a new life.  But he also regrets the wasted years, and we wonder at the system that makes life so hard that it is only after hitting rock bottom in prison that help comes, but he praises the Welsh prison service, which he says really helps to rehabilitate, compared with London.
With recent benefit changes, things will get worse.  John tells me about a woman who recently hung herself, leaving a note to her children, saying it was nothing to do with them or anyone else, but the new 'bedroom tax' that had reduced her to despair.  If you are on housing benefit and your house has more bedrooms than the occupants demand, then your benefits are reduced, irrespective of personal circumstances or whether there is smaller housing available in the area.  In the case of parents with grown-up children, this will often mean it is impossible to accommodate them on visits, cutting families apart.  For MPs in Westminster who may stay in a hotel while visiting parents, this is presumably not a problem.
My own Mum lived for many years in a large double-fronted Victorian house in Cardiff.  Although she had some lodgers to offset costs, eventually the cost and worry of upkeep became too much and she sold it and moved into a purpose-built housing association flat.  In those days, my own income barely covered family expenses.  We had used to visit for a week at a time, staying in Mum's house, taking occasional trips out, sometimes leaving the children with Mum for the afternoon and visiting town.  After the move to the single-bedroomed flat, we would visit for one, maybe two nights at most, staying at a Travelodge, where we could stay as a whole family in one room.  But we had an income, and a car, and although it was a substantial cost, we could bear it several times a year.  If I had had no income, what then, maybe once a year at Christmas and letters in between?
Chester itself is comparatively affluent, as much as any area in these straitened times.  At the station I am met by David, a lecturer in building at Glyndŵr University, who was at the talk I'd given a few days earlier.  David gave me a lift to the start of the Wales Coast Path in Chester.  Not the most easy place to find, as the closest approach is the car park of Chester Football Club at the back of an industrial estate, still a mile's walk from the path start.  The path runs along a long cycleway, so maybe there is a better place to join it closer to the centre of Chester.
So, we walk back along the cycle path along the long artificially straightened banks of the Dee and almost miss the start of the Wales Coast Path.  Well, to tell the truth, we do miss it, and it is only when we see the back of a sign saying 'Welcome to Wales, Croeso i Gymru' (there was no corresponding sign the other side saying 'Welcome to England'), that we realise the two upright stones we had passed, framing the path, were in fact the border, and start of the Wales Coast Path.  Even going back and looking closely, the only indication is some boot marks carved into the stone.  Compared to the roundel and obelisks in Chepstow, this is very low key, almost apologetic, as if the industrial northern border crossing were a lesser sibling, kept in the shadows, while the star of the family is shown off to relatives.
After a few photos, we set off, David and his black Cocker Spaniel, accompanying me for the first mile or two.  He explains some of the background to Rhyl, the most deprived ward in the whole of Wales.  Some years before, when there was insufficient housing in Liverpool, and, as in many decaying seaside towns, an excess in Rhyl, the local authority moved all the 'problem families' from Liverpool to Rhyl, instantly creating a perfect storm of a community.
The path itself runs perfectly straight for several miles along the canal-like Dee, still tidal, flotsam floats upstream, mostly logs with the occasional car tyre to add variety.  The land to the north side is artificially drained and reclaimed, 'Sealand', a miniature Holland.  Environmental impact and carbon footprint are a central part of building education today, and as part of his teaching, David uses simulations that show how sea level rises will affect different areas. "I wouldn't buy a house in Sealand", he says, and explains how every few years, the dyke top along which we walk has had to be raised, and how in Chester the weir is for the first time being overtopped and salt water leaking upstream.
The view ahead points directly to Connah's Quay Power Station and the remains of the steel works that once gave 12,000 jobs to the area, where David's grandfather, father and brother worked until it shrank, the steel-making equipment shipped to India, and now only a small research facility remaining.
After David turns back, I am alone again, with a long walk in intermittent rain.  Across the water I see a strange wrapped thing, full of unidentifiable bulges.  If it were in the city centre, or along a major roadside, I would assume it was a piece of installation art, like Knighton Supercar, but here, as I pass by its shape becomes slightly more clear, more like a huge aircraft wing.  Sure enough, a short while later a large, low, flat barge, the 'Afon Dyfrdwy' chugs slowly upriver, on its side 'Airbus A380 on board'.
The path eventually crosses the river toward the end of its cut path, over a beautifully engineered blue-painted, riveted-girder rising bridge.  The riverside now becomes more varied, the occasional timber remains of old quays and Second World War pill boxes, as there were in the earlier straight section, but also boats on the river banks, old buildings or fragments of buildings that give a hint of a prosperous past.
None of that prosperity remains in Connah's Quay.  The path cuts inland and along what appears to be a vestigial high street.  The signage here is a little spare, and I found myself following the more clearly signed cycle route, although I realise that there are coast path 'buttons' set into the tarmac, so maybe it is just that the planners assume that when going through this part of the world you will be walking head bent, Lowry-style, to be in keeping with the environment.  I had been told earlier in the walk that investment and interest in the Coast Path was minimal in this area, as the local council sees industry rather than tourism as crucial.  To be honest, despite the occasional points of slightly obscure interest, selling this as a tourist area would be an uphill struggle, it is probably only the compulsive Coast Path collector who will want to 'bag' this section. This said, the final 'Riverside Walk' leading into Connah's Quay has both extensive information signs and interesting wooden and metal sculptures.
Turning into Connah's Quay itself, I am getting hungry.  I plan to stop for half an hour and get a quick snack here.  I first pass a sign 'Yvonne's Café, Eat In/Take Out', beside an green old 'NE Mostyn light buoy', beached on a small tarmac car park.  This looked perfect, a solid workers' 'caf', but sadly, it's closed on Sundays.  A few yards further on is the 'Old Quay House', established 1787, but now, clearly in just the last few years, closed.  As I turn into Connah's Quay itself, another pub also closed and boarded up.  When even the pubs close down it is a real sign of an area in freefall.
At the point of despair of whether I would find any food before Flint, there is a petrol station and small Spar where I get a sandwich and pie.  The lady behind the counter is friendly and mentions the wet sympathetically, but I get the feeling she is happy when I leave and take my dripping, muddy clothes outside.  Only yards beyond, but hidden by the garage as I approached, is the 'Halfway' pub, which clearly is open, although given the atmosphere of the area, I feel I might have felt out of place, like the hush when the outsider comes into the bar in an old western.
After this, I follow again the cycle route signs under the A55 intersection, along a small lane and then onto the side of the A55 which, quite quickly, takes you to the outskirts of Flint, where a sign declares it 'historic market town'.  I note I only have just 20 minutes until the last train to LLanfairfechan for 2 hours.  Given the stories I'd heard of Flint, I thought there might be better places to spend two hours, so hurried along, as the path cuts around the town through marshes, with wooden boarded bridges over the (very) worst parts.  No matter the three fifteen-storey tower blocks rising above the town to the south, the approach along the salt-marsh estuary side towards Flint Castle is impressive.  Promising myself a close look at the castle when I rejoin the path at Flint another day, I pass quickly through a car park, where parents help children take off muddy boots after a just-finished football match, past a RNLI station, and along the road to the train station with its giant foot sculpture, where I arrived literally as the train arrived.
Whether it was the wet, the late walking the previous day, sore wet feet, or the general depression of the areas through which I'd travelled, but I felt my own spirits low.  However, a curry from the Indian takeaway, and the promise to myself to take the next day off to write and catch up with university work, lightened my spirits as I snuggled, for the first time for a week, into the cosy van bed.