we don't do Swansea, the jungles of North Gower and a fortuitous meeting
11th July 2013
miles completed: 945
miles to go: 113
Parisa dropped me off at the Discovery Centre and then I walked back along the path to where we had branched off to the Sandpiper the day before. I am still amazed that the parking at the Discovery Centre is for four hours maximum, given they are promoting six-mile linear walks starting there.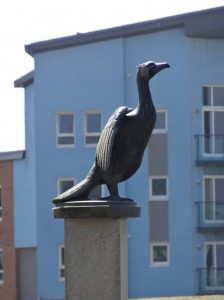 Over breakfast Parisa and I talked about her roots in an Azerbaijani part of Iran. Her grandparents left Azerbaijan after the October Revolution, and after that time the languages of those in the USSR and those in Iran diverged, not least because of different scripts, and also the presence of different dominant languages, Russian in Azerbaijan and Parsi in Iran. This even affects basic grammatical constructs such as noun–verb order. As a child she spoke Azeri at home, but never saw it written until she learnt to read the Cyrillic script as an adult.
Language is such a core part of identity, especially for the ex-pat, but can be complex. I'm thinking about a news item on the SaySomethingInWelsh list about Les, who walked with me from Monmouth to Pandy. Les has just been the first person ever to present to Monmouthshire Council in Welsh. This would be remarkable anyway, but he is by birth a Lancastrian, only having learnt Welsh in the last few years.
I do not come from a Welsh-speaking family; in fact, in Cardiff I only knew one family who spoke Welsh at home. I had hoped to learn more Welsh while walking, but the time pressure has meant that has gone onto the back burner, like so many things. However, over the last few days, except when I was walking with Parisa, I have been plugging in my iPod shuffle and listening to random SaySomethingInWelsh lessons as I walk.
The SaySomethingInWelsh lessons really intend you to speak back on every line, and progress through them in order. However, (1) I don't know how to get the shuffle to play in a particular order, nor even if it can, (2) I get bored too easily, and (3) I don't think that learning style suits me as I struggle to repeat sounds back, especially if I don't see them spelled out. The purely oral method works for a lot of people, and in particular Les found it wonderful, but I find that if someone says a name or word to me I am unable to repeat it back even straight away. I think I just have some sort of specific problem in my auditory loop, or maybe I just don't listen hard enough!
As I put on my rucksack for the day, and Parisa prepared to drive off, I remarked how odd it was that for the first mile as I walk back down the Coast Path to the start point, I will be simply walking, not 'on the walk'. Indeed as I walked I kept finding I had to tell myself, "No, I'll photograph that on the way back," and tried to simply walk!
Turning round I climb a small knoll and look along the length of the lake that we walked beside to get to the Sandpiper and then at the grass-covered railway tunnel that was Parisa's landmark. There is a stone sculpture that has a notice on it about the history of the Llanelli Water Park. It is on the site of an old steel works, originally built on reclaimed land in 1897, and now a large recreational area that is heavily used by the local community. Although not the most spectacular, it is one of the few parts of the Coast Path that is easily accessible by wheelchair.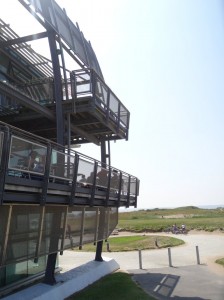 The Discovery Centre is an impressive construction of concrete and glass that could easily be a modern art gallery, or sailing club, with a curved sun-shade projecting to the south of the building that looks like it could just catch the wind and send the whole structure sailing out towards Cornwall.
Inside there is a café where I get a quick cuppa, the normal round of tourist leaflets and one of those glass-boxed scale models showing the development plans for the area. A lady is putting out leafets, so I ask her about the likelihood of finding somewhere to eat between here and Pen-clawdd on North Gower.
"Ah, that is Swansea, we only have information about Carmarthenshire," she said, "Although I think there is more likely to be something to eat over there than here."
It was not that she was being unhelpful, she seemed genuinely to have no idea about anything more than five miles east, although she presumably could have given me information about Laugharne, 30 miles in the other direction, as it is in Carmarthenshire.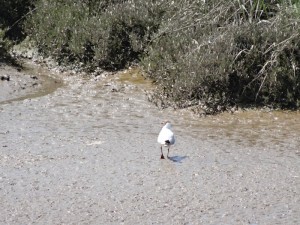 This would be shocking enough if it were any sort of tourist information; the centre may well be in Llanelli, but tourists coming here will presumably spend time in the Gower, and effectively they were being told to go there and find a tourist office to ask. However, I was not even asking about general information, but specifically about the Wales Coast Path, supposedly a pan-Wales initiative and one intended to be bringing in tourists from around the world, who are then being told "we don't do Swansea". Unbelievable!
East from the Discovery Centre, the coast path leads you along the landward side of a wetland area, where sea birds dabble in the tidal mud. The beach stretches along the other side, but there is no way across the river mouth that feeds the marsh.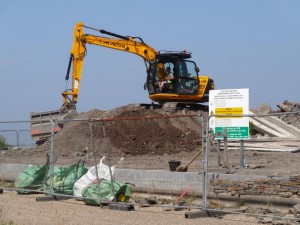 Beyond the wetlands builders are at work, and beyond that new housing and beyond that housing that is already occupied, the residential area is being developed as a wave of brick, tile and concrete moving westward.
The sign says, 'Beachfront Executive Homes' and although the pricing here will not be the same as, say, that on Cardiff Bay, still I would expect the homes to be out of reach of the majority of Llanelli's residents. However, it is clear that the Water Park as a whole is seen as something for the whole community, even if the residential development will be more exclusive.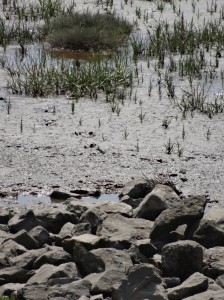 I assume that many of the residents will either be commuters to Swansea or retirees, and indeed I chat to a couple, walking their dog, who have retired and moved into one of the flats in the last few weeks. I cannot recall the whole conversation, but I guess as I was talking about the walk in North Wales I mentioned Rhyl. The lady had been brought up near there and she said that Rhyl had been a depressed area even then, 50 years ago. She lived a bit further along the coast, but occasionally visited cousins in Rhyl to go to the swimming pool there. However, they were only allowed to go to the leisure centre and not any other part of Rhyl.
I had wondered whether I would find some sort of small waterside café or bar amongst the new housing, but I found nothing. Maybe housing is more lucrative per metre of seafront than restaurants. I wondered how the area would develop any sense of community when from the start everyone was being forced to go elsewhere for everything from a newspaper to a meal out. Indeed the only way you would be likely to meet a neighbour would be walking on the waterfront path.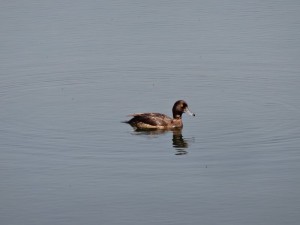 Beyond the housing is a plaque about Machynys, 'Monk's Island' where the 6th Century St Piro is said to have had a monastery. According to the BBC's 'Weatherman Walking', this 'even had its own tunnel running from below a cellar underneath the estuary and was used by the monks to cross over to north Gower.'  Far be it from me to contradict the BBC, but the idea of a 6th century tunnel beneath the sea that stays dry without constant pumping does sound very much like the Famous Five.
Further still is another plaque to the 'lost' village of Bwlch y Gwynt, 'circa 1880–1973'. There is even a bench nearby donated by the 'Lost Communities Group'. If this were a medieval village I would understand it, but losing a village in 1973 sounds like pure carelessness (although to be fair there is more info on the BBC and Abandoned Communities websites).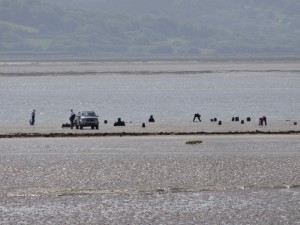 Out to sea there is a line of cars on a sand bar. At first I think these are more sea anglers, but then realise they are cockle pickers. Happily these are only a short way out, as I remember still the news of the Chinese cockle pickers drowned in Morecambe Bay when we lived in Kendal.
Cockle picking is a bit like general coastal fishing. Once it would have been the preserve of locals who knew the waters, but then, like foreign boats, people came from further afield. I think about the Special Area of Conservation recently established around Barra despite local opposition. It seems crazy that it appears impossible to establish rules that prevent large-scale despoliation of the environment and yet still allow limited local exploitation.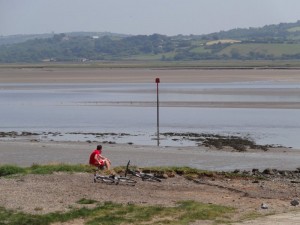 Further on I meet a lady and her daughter out walking a dog. Away from major towns, it is easy to greet and often chat to any other walker, but in towns and busy areas it tends to be dogs that allow one to make contact. Indeed, a bit like mothers and babies, if you first admire and greet the dog and then say hello to the owner, you are almost always sure of a warm reply.
When I told them about the walk, they told me about their son and brother who has done various major challenges in support of cystic fibrosis charities. This included a Lands End to John O'Groats cycle and running Offa's Dyke in four days. Think about it, that is 45 miles running every day. As they said, "the harder it is the more he raises". Maybe I need to hurt more.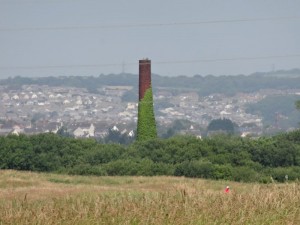 Although I am still close to Llanelli and I am still in the Water Park, which is a major tourist attraction, I am passing by a busy golf club, and it is a sunny day in July, and yet for several miles I meet no one on the path. It is amazing how easy it is to find solitude even close to major urban centres.
Beyond the wetlands is more well-paved pathway passing the Gateway Caravan Park. Across the water Pen-clawdd seems no distance away, and I know that with the right guide the sands and mud flats can be forded at low tide, but I will keep to the path and cross the bridge at Loughor. The path passes the 'National Wetland Centre Wales'. This seems more like Fort Knox than a nature conservation with high fences. Are there crocodiles inside? The reserve stretches either side of the path which goes in a sort of alleyway between high fences and then I spot a group of (paying) visitors overhead, on a raised walkway, not only above the path, but high above wetlands, allowing them to see without disturbing the wildlife.
I am getting hungry. On the map there is a 'beer glass' symbol that looks as if it might have been the caravan site clubhouse … I have seen those marked before, but they are rarely open to the public. Further on there is one marked just by the path, near the Loughor Bridge, but is it real?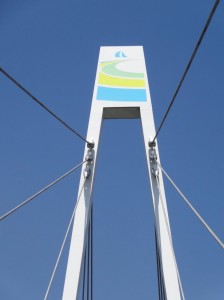 Getting closer to the Loughor Bridge, the path soars above the railway and dual carriageway on a new footbridge. A short distance on the other side is a notice 'The Lewis Arms, For Great Food, Only a 1 min cycle ride away'. It is real and a rare example of signage telling you about potential food or other things on or off the path. As a walker I would have just pressed on anyway, but I assume they have put the sign here in case a cyclist decides to detour into Bynea.
A short way on, I guess more like 5 mins for the walker, is the Lewis Arms " and it is still serving food 🙂  Their house special beef burger is home made and tastes it.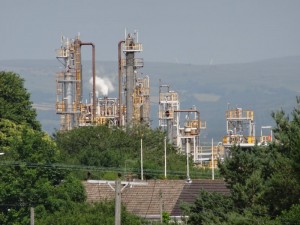 In the Lewis Arms is a party of elderly ladies. I don't know if it was a birthday, or just a girls' lunch out, but seeing them reminded me so much of the trips my Mum used to organise, sometimes local, but often further afield. I spent much of my young life amongst pensioners. At their peak, Mum would sometimes hire two coaches to take parties to places like Weston Super Mare, or the American Museum at Claverton. Often the lunch would be at a church hall somewhere along the way, sandwiches and homemade cakes in aid of the church funds. I was especially proud when I had responsibility for the second coach, ticking people off and making sure everyone was happy.
Outside the Lewis Arms I chat to a lady and her daughter. The lady spots my rucksack and asks where I am walking to.  When I say Cardiff, she almost falls off her chair, and even more so when she realises how far I have come.
I say, "less than 150 miles to go", and she says, "I don't drive 150 miles".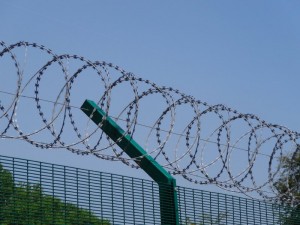 She tells me that the thermometer in her garden said 40 degrees yesterday, a sun trap, which would be wonderful in a normal summer's day, but more like a death trap in the heatwave we are having.
As we talk about mobile signal on the way, I mention that email works best and at this the daughter chimes in. She has found exactly the same – 1970s technology wins every time with low bandwidth.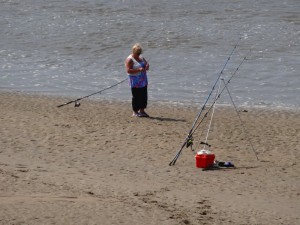 The path then leads past a small factory and out over the Loughor Bridge. A heron stands by what looks like the remnants of an old ferry landing stage, or maybe an old wooden bridge, and as I go to the other side to look along the line of it, I notice that the angler standing below is a woman. This is the first female angler that I have seen in the whole trip.
Looking across I see a line of either stones or remains of wooden posts in the mud. Rather than a bridge I think they are simply marking the route of an old ford across the river. Indeed I later learn that the ford was of strategic importance in Norman times and guarded by Loughor Castle.
Once the road would have run right through the village of Loughor, but now this has a bypass. I'm sure the residents will have been very pleased, but the Hurrens stands empty; once, I am sure, a bustling pub and restaurant with passing trade, but now starved of business and boarded up.
The path continues alongside the bypass, but on the village side of the fence, beside a playing field and behind houses, until it crosses under and heads along small roads and over a few narrow bridges towards the outskirts of Gowerton.
These roads are quite narrow, but narrowed further by cycle and walking lanes either side, so the road is effectively single track even though the overall width is two cars' worth. Cars can pass easily when there are no pedestrians or cyclists, as there is ample width, but are otherwise giving them a wide berth. This seems a very good compromise between car flow and pedestrian and bicycle access. The bridges are a bit of a challenge, however, as they are little more than a car's width anyway. I chose to cross when cars were flowing in the opposite direction to me as then it is easier to see each other.
In general I found signposting in the south better than that in the north of Wales.  However, some of this is due to the fact that the path in the south follows the coast more closely, and it is easy to signpost the coast itself.
The section after Gowerton tracks the main B-road down the coast to Pen-clawdd, through lanes and fields, about a quarter to half a mile inland of the road. It was certainly better signed than some of the places in Llŷn or north Gwynedd, but still left me guessing occasionally. So long as I followed pretty much straight ahead I seemed to stay on the right path, but occasional additional signage would have helped.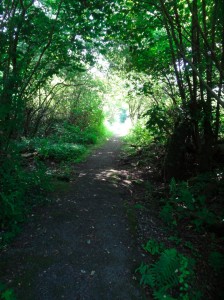 At Gowerton itself I could see that the path diverged from the road, but I almost missed it as it is signed down an alleyway using a conventional footpath sign that says 'Coast Path' but without one of the yellow and blue Coast Path symbols. The alleyway is followed by a patch of scrubland that is approaching small woodland height. I'm still not sure whether I happened to follow the right path through, or whether all the maze of pathways led to the same place out. However, beyond that it was along a long tree-lined lane, with the occasional side route until eventually the lane ended at a gate nearly blocked by a large trailer, opposite a house or small farm with a small tarmac road leading out of it and turning back on itself down the hill.
I was unsure what to do. The roundel on the far side of the gate did point straight ahead, but I knew that these directions could be a bit vague, so maybe it meant go down the road to rejoin the B-road here, rather than go through the house's back yard. In the end I scouted ahead past the house, which had an Arabic sign and in English 'Tahir Square' beside its door.   Sure enough at the far end of the yard, half hidden behind old machinery, was a stile.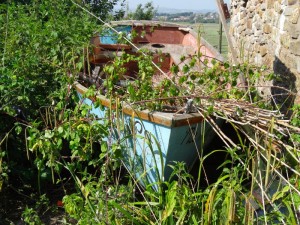 I have a feeling that of the few walkers who follow this section of the path, most have gone down the roadway and never found this stile. Certainly there is no sign of a well-trodden path on the fields beyond. I think it is just two fields, though I may be losing track, but certainly the last field was large, had an arrow vaguely pointing along its length, but had two gates towards the end, neither of which had a Coast Path sign, nor indeed any path markers on them.
The one closest to the road was most obvious, but the other was slightly closer and I looked more closely at that first and, after going right to the gate and peering beyond I happily … or maybe not … spotted a sign about twenty yards down the small earthy lane beyond. I followed the small lane that ended at a stile, which this time did have a Coast Path arrow … and beyond which appeared to be total jungle. I recalled having met someone earlier in the walk who warned me of a section with head high vegetation, but I had assumed he was exaggerating. He was not.
The bracken came to the top of my chest and within the bracken, cutting back and forth across the path, were brambles and stinging nettles. At first I tried to stamp down the nettles and brambles ahead, but they were too high and also virtually invisible beneath the bracken; all I could do was simply push through, ignoring the thorns tearing at my clothes and flesh. I had no idea how long it would go on like this, a hundred yards, a mile, but once I was committed I pressed on, brambles tearing at my legs. Happily, barely ten yards further I saw a tarmac lane to the right and realised the route was joining it. Exhausted, cut, and my legs throbbing from the nettles I emerged.
In the end the overgrown section was barely thirty yards long, but that evening my legs still stung from the nettles and it took several days for all the tiny bramble cuts to heal.
I have had two tests in mind as I walk the Coast Path. One is the three-year old test: is it safe to walk this section with a (well-controlled!) three-year-old child. The other is the twelve-year-old test: if I had asked my daughters to walk this path with me when they were twelve would they have hated walking (and me) for the rest of their lives? I guess this section of the path would just about have passed the three-year-old test as I'd have put a three-year-old on my shoulders, but would have been utterly disastrous with six- or eight-year-olds for whom the undergrowth would have been above their heads. I cannot even begin to imagine what my daughters would have said to me at twelve.
This patch worried me particularly because it wasn't in a hard-to-reach part of the Coast Path where only seasoned ramblers might be expected to go, but near a built-up area and in the Gower, which is a major tourist area where inexperienced walkers are likely to go, and maybe never walk again.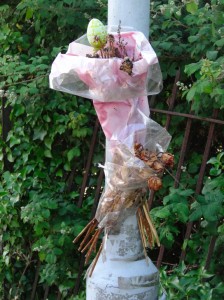 Furthermore it is just a small path right by a small road, so access is easy. Later I learnt from Andrew that the Swansea Ramblers had reported this section to the council and cleared it themselves on one occasion. I assume the council are simply reducing the frequency of roadside cutting; this is certainly evident in roadside hedges and the poor campervan has extensive scratching along its side to prove it.
Anyway, down the little road to join the main B-road at the Sea Garden Chinese Restaurant.  From here to Pen-clawdd the Coast Path follows the road, which has a footpath, and I find myself letting out my breath in relief. Happily the rest of Gower turns out to be adequately signed and easy to walk.
On a lamppost there is one of the bunches of fading flowers that I have often spotted along the way. Clearly someone was knocked down here in the past, so the planners are probably right to avoid sending walkers on it where there are alternative footpaths.
After a few hundred yards along the road I realise there is a second footpath a few yards off the road, and soon after I find a way onto it. This is the new 'North Gower Trail'. It also has a Coast Path marker on one of the notices and Andrew says there is an access point by the Chinese restaurant, which I must have missed, but he says it is not well signed at that point, so I have an excuse.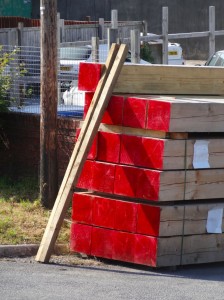 Penclawdd starts as a ribbon development alongside the B-road leading to pleasant small village along the 'water side' (read estuary mud at low tide). There are small local shops including a traditional butcher offering 'Salt Marsh Lamb'; it is not only the foreigners who appreciate it! I pop into the post office to post a USB stick with photos on to Fiona.  I have the photos on two portable hard disks in the van, but sending a copy to Fiona is a final backup. By the end of the trip I will have taken nearly 20,000 photos, so it would be a pity to lose them.
I tell the man behind the counter what I am doing.
"I swear by Dropbox," he says, and when I say that the total size might be a little large, he advises me that, "there's an open source version you can install on your own computer."
We get on to talking about internet access in general, and I notice my phone says it has 3G.
"That'll be over there", says a lady in the post office, pointing across to Llanelli.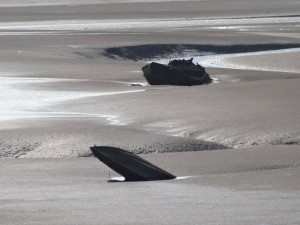 The waterfront walk continues beyond the post office, but rather than the metal railings common on sea fronts, here there is a concrete wall, with strong wooden gates where access is required. The high-tide line is clearly very close to front-door level for the houses near the estuary. Out on the mud a few abandoned boats sit, one with its prow pointing upwards as if it were frozen, about to sink beneath the thick grey ooze.
Further on, the path cuts through a small industrial estate, which contains the sea food factory that processes the local cockles. It is an eclectic mix of businesses with a traditional slate cutter next door to a unit providing 'computer forms'. I guess the latter means pre-printed computer paper rather than online forms, although when I first saw it I imagined 3D printed digital art.
At the end of the industrial estate a rough path cuts onwards along the sea edge while a small lane leads off to the left. I assumed the seaward path was correct, although it is hard to work out given the spread of salt marsh exactly how close to the water's edge the path should be.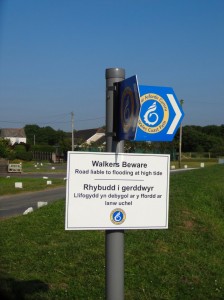 Some parts are quite rough, but underneath there is obviously a well-made stony roadway, I assume the original coast road before the inland routes were made. From the occasional dry seaweed I assume this is occasionally flooded, although I'd guess not deeply so.
The waterside path leads round the end of a small headland before coming to the children's playground of the village of Crofty and the small unclassified road to Llanrhidian that continues along the tide line. At some stage I need to ring a taxi and go back to Swansea where I am staying another night at Parisa's flat, but it is not far to Llanrhidian and so I decide to press on.
About half way along is the hamlet of Wernffrwd, but this appears to be mainly away from the water's edge (where it is less likely to be flooded). Where the side road that leads up to Wernffrwd meets the shore road, there is the small church of St David's facing the estuary and a sign warning of unexploded ordnance as the mud flats used to be an MOD firing range. Nearby there is a large concrete block about the size of a bus shelter. I thought at first it was a pillbox, but there were no openings whatsoever and so I wonder whether it was once simply a target for shooting at.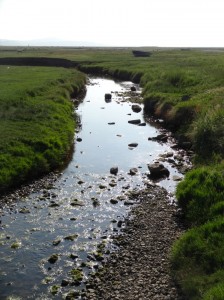 Eventually, the church and houses of Llanrhidian appear across the marsh and the road leads in and up to the Dolphin Inn.
I check my phone and have no signal, so inside I ask, in order of urgency, for a pint and a phone for the taxi. The pint was easy, but their landline phone was not working. The man behind the bar suggested going outside and just up the street as he said I'd probably get some O2 signal there. Then as I was going out he suddenly called me back.
"I almost forgot," he said, "Mike will do you a taxi."
Mike used to have a taxi in Swansea and saw that people in the Gower always had to pay for a call-out fee for a Swansea taxi to come all the way down. He saw that there was a gap in the market for a Gower-based taxi and soon had as much work as he can manage and more, recently buying a people carrier and employing a second driver.
This was a very fortuitous meeting as I needed several taxis over the coming days going back and forth to Gower campsites and it would have cost me around £25 a time for the Swansea call-out before paying for the actual miles travelled.
So Mike called for his driver and I had just time to leisurely finish my pint before he arrived to take me back to Swansea.