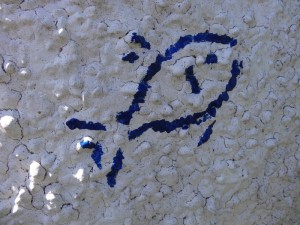 This was going to be a short day's walk and there was WiFi at the Caeau Capel, so I took a leisurely breakfast catching up on email and some urgent work, before setting off around 10:30.  So leisurely, in fact, that I forgot to start my GPS devices and only noticed at lunchtime at Ty Coch.
The Coast Path goes right across the end of the road, yards from the entrance to Caeau Capel, so I could have come down it the previous night, rather than into the centre to ask directions at the Indian restaurant.  However, last night I was not following Coast Path signs anywhere!
This morning was a new day, bright and sunny … indeed more sunny than I'd anticipated and I realised later in the day that I should have renewed the factor 50 on my arms.
The path runs straight down to the cliff, and you have to follow it as there is a fence on one side and a bank on the other, and yet half-way down there is a finger post pointing Coast Path in both directions.  I wonder why there can be a Coast Path post where there can be no choice, let alone confusion, and yet yesterday nothing on the dyke near Caernarfon … ours is not to reason why.
Nefyn Beach is down a steep road from the town, and many years ago, before we moved to Tiree, Fiona and I had looked at a small plot of land for sale beside the sea. It was in the middle of a number of beach-chalet-style properties, but was only accessible by walking past one of the other properties' front door.  We decided that facing due north with the cliff straight behind may be lovely on a day like this, but depressing in winter … and the van only just managed to drive back up the road. Looking down from above I notice the plot is still empty.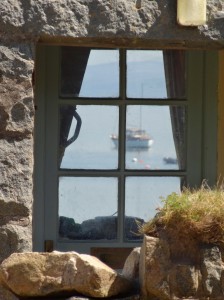 With a very short diversion inland, where, I guess, the cliff is too eroded, the path follows the top of the cliff all the way round the headland to Morfa Nefyn, where instead of continuing along the cliff I cut across the sand to Porth Dinllaen where I was hoping to hole up for an hour or two at Ty Coch, 'the pub on the beach', and write.  However, it was still early, barely noon, so I decided to go round the headland and come back across. It wasn't very obvious where the path comes out of the hamlet to go anti-clockwise round the headland, so I went up to the golf course on top and went the other way round. I was going to cross my own path; would I need to spin round when I got back to Cardiff to make up?
Unlike the Trefor farmer, the golf course seemed very helpful to the walker and one of the people looking after the greens told me where I should go. I guess the golf course is part of the tourist industry and can see the advantages of the Coast Path whereas the hill farmer has no direct benefit.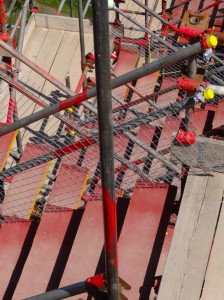 I guess all coast guard stations are picturesque, but the one on the headland stands on wildflower-draped rock, and must rank high. Further round, back on the eastern side, a new lifeboat station is in the process of being built and the cliff path is diverted down a staircase constructed in a scaffolding tower.  Well, I should say 'down' in my direction, but the somewhat well-built lady coming up said "my body was never made for that".
Back on the shoreline, two young women in wetsuits were standing in a tiny cove and packing snorkels into net bags. At first I thought they were coasteering, until I saw them hold up a plastic bag with something brown inside and overheard one say 'specimen'. They turn out to be marine biologists from Swansea, looking at the undersea ecosystem. Evidently this small area has very rich marine biodiversity, probably due to the east-facing direction sheltering it from the prevailing westerly winds, just the same reasons that it was used as a fishing port and, I later discovered, was once considered, at the beginning of the 19th century, as a possible site for the packet to Ireland – Porth Dinllaen could have been Holyhead.
The Swansea biologists were also working on a project to lay out a trail for snorkelers.  This requires having good things to look at, but also includes finding access points; when you have only a thin layer of rubber under your feet, you need smooth steps down, and also areas you are not likely to get in the way of passing boats.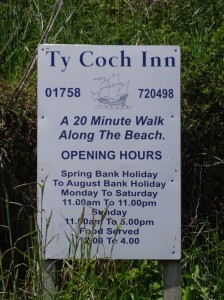 Ty Coch is lovely. Today, most people are sitting outside, so there is plenty of room inside for me to spread out computer and papers sheltered from the noon sun.  Amongst the pies on the menu are two that are described as 'bread pudding'; I'm advised the duck one is particularly good. I initially imagine something like a lasagne with bread slices between, like a fruit bread pudding, but instead it is more like a normal pie, except formed with bread instead of pastry. They are served with a little jug of sauce as the filling is almost dry so that the bread ends up crisp, almost rusk-like.  It is a simple thing, just sliced bread pushed into a mould, and yet very special. And they have WiFi 🙂
Around the walls are photos of old Nefyn, including the high seas of 1983 and an image from 50 years earlier, when on another stormy night, a seaplane anchored in the bay was blown ashore, its wings wedged against the pub roof. Another seaplane, also anchored in the bay, managed to manoeuvre onto the beach. Happily there were no serious injuries, although one of the pilots had to be rescued by a lifeboat man, swimming out with a line, but both seaplanes were destroyed.
Stuart the landlord recalls meeting Will on his way round a few weeks earlier, and gives me my lunch for free.  He is clearly a central figure in the community; while I sat, one person came in to ask if he could attend a meeting and another to ask if he'd be part of a new committee for something. I think about people on Tiree, such as Dr John, who are social pivots, connecting many organisations and activities. Sadly, we cannot talk longer, as the sunshine makes it a very busy day for him and I need to make my way to Tudweiliog, but I feel this is a place I'd like to come back to if I can manage a 'revisit' tour next year (motorised!).
The rest of the day is uneventful, but very lovely, the path running along clifftop the whole way, sometimes the cliff side of a fence, sometimes with open pastureland.  One such open field has a car driven right to the cliff top. A lady is sitting sunbathing on the clifftop, her husband tending fishing rods behind the car. "I'm like a mountain goat," he says as he goes up and down to the sea to fish and back up where the lines have got tangled with sheep's wool.  They were able to drive to the clifftop because the farmer also runs the campsite where they are staying. If more famers could see positive benefits from tourism, like this one, then maybe they would be more friendly to walkers.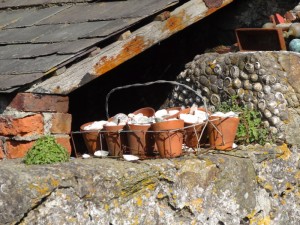 Tudweiliog is about half a mile inland down a footpath between two sandy coves, and I wondered with many coves and many footpaths how I would work out which one to take. Happily I met a family coming up from the beach, who are staying at the campsite where the path meets the sea, and in fact when you come to it, the large beach ahead is very clear.  However, for the walker going past there would be nothing to say that this is the way to somewhere where they might take a break for lunch at The Lion (I am eating wild boar liver, rum and ginger paté as I write!).