I expected the day to be largely about simply walking as there was only one seaside village between Amlwch and Cemaes, a day purely of natural environment and bodily effort, but instead it has been a day with so many points of encouragement from human encounters.
The path west out of Amlwch skirts inland of the chemical works. I assume the substantial council house estates were built to house the workers.  In architecture, Amlwch feels more like the housing estates you get at the edge of every city, and the estates through which I walked to and from the bus stop are so like Tang Hall in York where we lived for several years.  However, and I can't put my finger on what it was that gave the impression, there was none of the sense of heaviness that often pervades such estates.
Out of Amlwch Port, the path is signposted up steps, but then leaves you on your own (keep as far seaward as possible), until a post points you across a recreation field; at the far side a pathway runs beside a large mud-banked ditch, along which flows a stream of foul red-brown liquid, foam patches floating or clinging to the banks.  I assume this either flows out of Parys Mountain itself, or perhaps a closer area where copper ore was dumped while waiting to be shipped to the smelting works of 'Copperopolis' at Swansea.
Parys Mountain ore smelted using South Wales coal provided copper for the world.  But now Parys Mountain is left a barren lunar landscape.  So far I have not seen images, but a lady I talked to the previous day said it was definitely impressive and worth visiting, "utterly lifeless, no plants, no birds, eerie", she said.
Passing on, I cross an old railway line and a field of horses before coming back to the sea and grassy clifftop path. All through Anglesey I've been amazed at the range of flowers growing on the cliffs, even just above the tideline, and the sheep-grazed fields awash with pale-yellow primroses.  The rocks too are thick with lichens, some soft-edged and velvet like, some hugging close to the surface, like cracked paint, one a heart with a smiling face inside.
As the clifftop path approaches Porth Llechog, just as yesterday in the approach to Amlwch, it becomes quite boggy in places.  No problem for boots, but this day I was wearing sandals, great for the beach walking, but leaving me with mud-spa treatment for my toes. Porth Llechog is also known as Bull Bay, after a nearby cove "Pwyl y Tarw" ('tarw' is 'bull' in Welsh).  I learn this from a faded information board, which also tells you about the brickworks and china clay works that are further along the coast.  The shiny modern board, like others around Anglesey, says little apart from local by-laws and beaches where dogs are forbidden.  Why create such expensive-looking boards that say so little, especially when the information to say something more useful is already there to hand?
I was looking forward to visiting the café just across from the shore.  When I first planned the walk, Fiona collected a YouTube playlist of traditional and contemporary Welsh singing.  One particularly lovely song was Siglo dy Sail, sung by Meinir Gwilym, and the YouTube video was shot at Caffi Wendon, Benllech.  By looking at Google Street View I'd managed to work out that it was actually at the west end of Porth Llechog.
As I walk along the promenade there are houses to the left, each with well-kept gardens, but more unusual, to the right from the roadside to the cliff edge are cultivated gardens.  It is odd, I love wild things, windswept seascapes, and vegetation-invaded ruins.  Yet this suburban profusion of order, which I would dismiss or ignore in an urban setting, is somehow refreshing in this area of endless wildflower-carpeted cliff sides. Maybe it is the contrasts that appeal to me: enclaves of wilderness in the city and seams of order in the wilderness.
However, I am getting increasingly uneasy, as I look ahead, the line of buildings that I took to be where the beach café is has no notice or chairs, or any of the signs of being anything but more houses. Have I missed it somehow?
A lady is in her front garden, so I ask her, and the answer is not good.  The café has closed.  It was evidently not there long, just a year or two, but they never made a go of it. It seems surprising, the coastline is hardly scattered with eating places.  Maybe Porth Llechog is simply not on the car circuit, it has no large beach, no surf, and I guess is more retirement village than seaside town.
Sensing my disappointment, she asks, "would you like a cup of tea".
With my natural reticence, that very 'British' sense of not waiting to impose even when help is offered, I almost said no, but I was the 'walking man', not simply Alan.
"That would be lovely, thank you."
Why is it so hard to accept an offered hand?
She took me round to a table on the back patio where her husband was doing back garden chores and a few minutes later came back with a tray of tea and biscuits.
She and her husband continue to garden as I drink my tea, and every so often chat a little. They explain the cliffside gardens.  Evidently each house owns not just their front garden, but also a strip across the road down to the sea, and they garden their patch in various ways.
The day then becomes one of almost endless cliffside walks, with one narrow inlet after another cutting into the dark cliffs, some more like wide fissures, where, I assume, some ancient intrusion or fault sliced through the solid rock.
Eventually, far ahead, I catch sight of the first of the brickworks that I had read about on the (faded) information board at Porth Llechog.  For half an hour it draws closer as I make my way round the small bay of Porth Wen.  It is a surreal picture, strange brick domes that could have come from a Star Wars set, and tall Victorian chimneys.  The footpath cuts above the works as they are closed for safety reasons.  The day has turned cloudy and my photographs are washed out, but I imagine walking amongst these ruins on a good day, the chimneys towering above, and entering under the arched Pantheon-like roofs of the old brick kilns.
On the hillside above the brickworks is winding gear that I assume brought raw materials down to the works.  The bricks themselves would have left by sea from the brickworks' own quayside.
Beyond the brickworks more grassy hillside, cliffside paths ana rock that looked like giant pebbledash.
Between two headlands, Hell's Mouth seems peaceful on this early summer day, a stretch of rocky coast and small inlet, but in a north-easterly there would be no shelter and no escape.  But above there is an area that is part Shangri-La, part Avalon, flat raised valley filled with shifting brown rushes between almost emerald green grasslands.
An old wartime watch point guards a headland and then, looking down into the bay of Porth Llanlleiana, there is a grassy sward and castle-like half-round walls, eroding the approach to land.
It is the second works, a much smaller set of buildings, I think ceramics rather than bricks. Ruinous walls rise from the flat grass and a chimney sits part way up the hillside.  I feel there must be some buried flue that connects building to chimney.
This area is only reachable by foot, but there are picnic tables and an abandoned child's balloon suggest that this is close enough for family afternoon walks from Cemaes, or maybe a walk across fields from the road half a mile or so away.
The first sight of the works had been from far above and the way down a steep, but well-made, staircase cutting down the valley side; on the western side an equally steep path cuts back up the cliffside.  Passing a cushion-like hummock of primrose I climb.
Having put the old industry behind, the ground rises again up and atop a small headland, the island of the 'Middle Mouse' to seaward, ahead, framed by a barbed wire fence, I catch my first glimpse of Wylfa nuclear power station.  I think of the 19th century works, now dangerous only because of the risk of falling masonry, of Parys Mountain, a dead ground still after a hundred years, but walkable on, and then the nuclear industry, how long?  A thousand years, ten thousand years, before the land will be treadable with safety? I think of the Iron Age hill forts and megalithic tombs that scatter the Anglesey landscape.  What would the landscape be like after 10,000 years of nuclear power?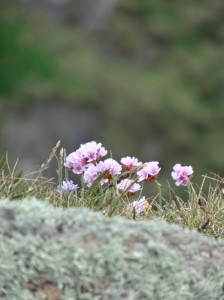 I know many environmental activists have espoused nuclear power as a less bad alternative to the carbon-hungry power that is bringing global warming and inundation.  And I can see this as a temporary alternative, maybe a way to wean ourselves before creating a new way of living within our power means.  But it is simply not sustainable, the effects last too long, I imagine those 10,000 years of nuclear power, how much land would be usable?  Two hundred and fifty cordoned off Wylfa sites, death to enter?
From there on Wylfa becomes the icon of the journey, appearing and then disappearing as the path wends in and out the folds of the cliffside paths.
Directly across Cemaes Bay from Wylfa is the church at Ty'n-llan.  The concrete of the power station hangs ominously over the tombstones, and outside the graveyard walls a small bunch of artificial red carnations and a single white rose are placed.  Have they blown over the wall from one of the graves within?  But they look too well placed.  Maybe this is the last resting place of one shut out from sanctified ground: maybe a distant ancestor who committed suicide and was buried outside the graveyard walls, or maybe a young unmarried girl placing a still-born child under the turf in the deaths of night when none would see.   How is it that we manage to make so many feel excluded from the church of the one who welcomed all?
There is a short alternative route along the lane, but I take the slightly longer way around Llanbadrig Point.  'Llanbadrig' is the place or church of St Patrick, and later I learn that this is the only church dedicated to St Patrick in Wales.  It is where he came temporarily to land en route back to Ireland from Iona where he had been visiting St Columba.  He may have cast snakes from Ireland, but nothing could protect him from the storms that crash into the north Anglesey coast , and he came to ground here, although not suffering the fate of the Royal Charter. The great advantage of a vow of poverty is that you have no belt of gold to drag you into the depths.
I meet Raymond and Vinney, a railway signalman and station environmental officer from Holyhead who often walk together, we chat for ages and they tell me that I can cut across the beach towards the last headland before Cemaes. The earthy cliffs are cut with treacherous caves and overhangs, and the beach studded with oddly shaped and coloured rocks, the latter I assume the result of mineral rich seams. I spot a mermaid, not out at sea, but printed on a deflated helium balloon; and I set my hand in concrete hand prints, but now, looking at the photographs, I cannot work out why there was concrete on the beach at all.
Cemaes itself is set in a bay within a bay, a natural harbour, with its breakwater creating yet another bay within the bay in the bay.  On the land side of the quay boats are drawn up on the shingle and a small river runs out from a culvert with a parallel tunnel to let the walker through into a small semi-wooded parkland beside the water, and then up the far side into the town.
The bus stop is opposite Cemaes Menter y Pentre (Village Venture).  It is half past five and so it is shut, but it seems to be a sort of multi-use community shop.  I am waiting for the bus to Amlwch, the first of three buses to take me back to Llanfairfechan.  I shelter from the drizzle under a shop doorway and for a short while a lady also shelters and chats before moving on.
Waiting for the next bus at Amlwch was Rhys, his fair, or maybe bleached, hair, in sharp contrast to his black leather jacket and platform boots. He saw my banner, asked abut the walk and gave me a donation, but above all was so excited about the idea, not least the millions of footfalls: yet another lift to end the day.