The first day started at the National Assembly building in Cardiff Bay. Its huge awning would have been good shelter if it had been raining, but is very exposed to the winds!
Fiona and I had spent the night at Jolyons, which is just opposite the Millennium Centre, a very special tiny hotel with six rooms, each sumptuously furnished, and miniature cafetière as well as the standard kettle and teabags and … a tiny tin with doll-sized Welsh cakes in it.  I'd meant to take them to try on the journey, but forgot 🙁
A few more family and friends gathered and, after customary photos and checking that the Garmin, which had arrived the previous day, was picking up GPS and set to track me, we set off.  As the start/end of the Wales Coast Path is at Chepstow (where I'll get to first thing Saturday morning, there is no obvious 'starting here' point when you pick it up in the Bay, so we opted for the Merchant Navy memorial directly by the water side in front of the Welsh Assembly, a sculpture that is both boat hull and face.
A few folk needed to leave nearly straight away, but Fiona, Esther, Janet, Rachel and Andrew were walking with me for a short while.  We had only gone perhaps ten minutes, when I realised I didn't have the Garmin unit. After searching pockets, we retraced our steps back to the Assembly area, for more scouring of ground and emptying of bags.  The security folk at the Assembly even put my rucksack through their scanner in case I'd slipped it in, but to no avail.  The procurement folks at Birmingham had gone to great lengths to get it to me on time (despite me asking very late!), so sad not just at the lost value, but for their wasted effort.1.
So, starting with a minor disaster, but if that is the worst that happens during the journey I will do well.
So, albeit a little deflated, I said farewells to family, and Andrew and I set off together. Andrew Morgan was one of the Ramblers Cymru team who had recced the path over several years, so it was marvellous to spend the first day's walking with him.  As we went along he could tell me of the compromises, planning issues and occasional bureaucratic barriers that meant that the Ramblers' idea of the best route of the path was not always where it goes.  In particular the Cardiff section takes a long detour inland along busy city streets as it has not yet been possible to negotiate a route through the city docks.
When you first hit the sea it is near the city sewerage farm and at an inlet beached with broken bricks and the detritus of an industrial past.  This is the past of only maybe a half century, but there are signs both in Cardiff and Newport (and I'm sure in July when I go through Swansea and Port Talbot) of the fact that this area was once the industrial heart of the world and Welsh iron and steel (and copper earlier) fuelled global engineering.
As we crossed the Rhymney we were met by Ted Richards, an ex-Howardian pupil, a couple of years ahead of me. As we'd been delayed by an hour by the fruitless Garmin search, he must have been waiting ages (sorry, Ted), so could only join us for literally a few hundred yards before leaving for a meeting, but wonderful to meet with another ex-Howardian.
From the Rhymney to Newport, the path follows the sea wall. To the right lie mudflats and salt marsh, driftwood strewn like bleached dinosaur bones along the base of the dyke.  To the left drained farmland spreads far and flat, but well below the high-tide line.  At the end of the day, when I got to Nash I visited the church, which, along with others, has the flood line marked on the wall, when in 1606/72 a tsunami or storm surge swept up the Bristol Channel (Môr Hafren) and funnelled by the Severn Estuary drowned vast swathes of land and killed thousands.3
It makes me think of the Lost Cantrefs in Cardigan Bay, inundated on a stormy night, when the drunken revellers left open the sluice gates.  The dinosaur bones suddenly become the bones of the giant cattle of those half-faerie times, washed by the relentless Atlantic waves; and I wonder about that future for this endless fight with the sea, hubris in the face of global warming and rising sea-levels.
If a Severn barrage is eventually built (and I recall plans for this when I was a child), then this area will change dramatically. The environmental damage will be incalculable as habitats of sea birds will be destroyed, but if projects like this do not go forward then these habitats will be equally destroyed, albeit over a longer timeframe, and with them the lives and homes of millions across the world.
We are a people who always live at the edge, on the margins.  Our cities bead the ocean fringes, clustered in flood plains and river deltas, like Canute challenging the tides, the elements, the very earth. Canute retreated when his feet got wet, but globally it is more like those Chinese cockle-pickers who were trapped on the Morecambe sands some years ago; the seas are coming and they will overtake us.
I'm afraid Andrew did not get a relaxed day's rambling (sorry, Andrew) as it was going to be a heavy day and doubly so after the early delay. But we were kept going by the promise of tea and cakes at the West Usk Lighthouse. As we neared it I remembered that it had been weeks previously that Danielle had offered this when I asked to pop by and talk, and I had meant to mail back over the last few days to confirm when I was coming. Would she have remembered, or would there be no-one there and I had driven Andrew stoically on with no reward?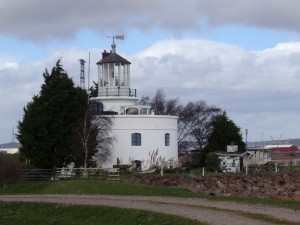 The lighthouse appears at first a small white dot along the line of the dyke, one of two either side of Usk mouth guiding ships into Newport, no rocks to crash against, but thick mud that will drag a ship just as terminally.
Even from the outside it is a magical place, with a small summerhouse/playhouse in the garden area, its own tiny light a-top.
As we made our way to the port-holed door, a smiling face was at the window, replacing screws in the heavily storm shuttered windows. This turned out to be Frank, the co-proprietor.  He had no idea of who we were, but welcomed us in anyway and Danielle, who sadly we did not meet as she was ill with a cold, told him where to find cake; "she never gets cake for me", he said.
Inside, the lighthouse is even more magical, a mixture of Dr Who and nautical paraphernalia, a Tardis, Dalek (signed by John Pertwee), rooftop hot tubs, wonderful views, and glimpses of romantic bedrooms, with beds on platforms to give uninterrupted sea views (they are registered for marriages!).
Danielle's glorious lemon cake and Frank's tea and coffee refreshed tired feet, and Frank told us a little of the move to the derelict lighthouse, over twenty years previously, escaping the rat race of London and a faltering record industry, that did not know how to meet the changing times, even then before the rise of internet downloads, Napster and iTunes.  He told us of the work they did together, a DIY job of massive proportions, and of the raising of the new light (this time with professional help!), copper and glass suspended above the spiralling staircase.
Some of their guests come from abroad, flying in from northern Europe to spend a single night in a real lighthouse, before flying back the following day.  Hundreds, maybe thousands of miles, for a night they will never forget.
[the following added 13th April, 2014 — nearly a year on! …]
Reluctantly we left the magic of the lighthouse and set our feet once more towards Newport.  My original plan had been to get to the Newport Transporter Bridge, to talk to people there before it closed at 5pm, but it was already well after four, so there was no hope of that now.  As I would increasingly find in the days and weeks ahead, my plans for when I would reach where were always widely optimistic.
The Newport Transporter Bridge is a miracle of engineering.  I had often seen it from a distance, two pylon-like towers straddling the Usk, with a high bridge-like connection far, far above the water and land.  I think I had assumed that this was a raising-lowering bridge, but in fact it is no bridge at all, but more like a giant version of a ski-lift.  Below the bridge-like structure, suspended by cable and chain, is a gondola, the size of a small landing-craft-style ferry.   When the 'bridge' is open this shuttles back and forth taking half a dozen cars at a time across the river.
We pass through the nether reaches of Newport and come to the Transporter Bridge.  It is, as we expected, closed, but from the notice it sounded as if it hadn't opened for the year yet even though it was well after Easter.  Even not in operation it is impressive, painted bright blue metal and woodwork, like a Victorian bandstand, the gondola sits at eye level while the support bridge towers above.
After the Transporter Bridge, Andrew and I part ways, he to the railway station to take a train back to Swansea, and I to continue my way to the other side of the Usk, so close, but so far.  When the Transporter Bridge is in operation it is an official part of the Coast Path, cutting several miles of Newport road walking from the journey, but I must travel up the river bank to the new concrete arched road bridge.
The banks of the Usk are littered with the remains of old wharves, massive timbers and rusty bolts, rising like tangled architectural forests from the thick grey estuary ooze I am so familiar with from the Taff and Rhymney rivers of Cardiff.  It has an austere nostalgic beauty and one can almost hear the creak of ships against timber, barrels rolling along docksides and the shouts of longshoremen winching cargo into rat-dark holds.
My reverie of the past had to give way to the present as I was due to give a radio interview by telephone and wanted to get to a landline in Nash, another five miles or so.  I'd said I'd be there by half past six, but as I crossed the river bridge, heavy with end-of-day traffic, then walked a long road through an industrial estate to get me back to the east side of the Transporter Bridge, I realised I was not going to make it.
The path along the east side of the Usk towards Nash runs through a narrow band of woodland area only yards from breakers' yards, oil tanks and wind turbines, and yet seeming a world in itself.  Beside the path the top of a thick upright branch has been carved into a mushroom head, the wood still fresh white and a chipping lying amongst the grass, a guerrilla sculptor only recently passed.
In the end I gave the interview on a rough wooden seat, cut from old railway sleepers.  I had to admit that I had started in this direction as I felt it was likely to be one of the least interesting parts … although I was willing to learn otherwise.  The interviewer, a Newport lass, forgave me my ignorance and assured me that Newport was in fact one of the best places in Wales, although I've a feeling slightly tongue in cheek.
I had arranged to meet Fiona, Janet and Rachel at the Waterloo Inn in Nash for dinner at 7pm, and got there just a little ahead of them, so I just had time to look around the church with its flood mark at head height, despite being several miles inland.
And so, with a good dinner inside me and dropped at my bed and breakfast, my first day ended.
The morning after now, and I have double checked my pack overnight, I will need to buy another along the route and rely on

ViewRanger

's

GPS

track in between, although that cannot be as fine grained because of power drain.[back]
The date is

1607

by modern reckoning, but at that time the year end was

Lady Day

,

21st March

, so it was counted as

1606

until then.[back]
A year later, I am still amazed that I never learnt about the

Great Flood of 1606

in school as it was such a cataclysmic event for

South Wales

and

Somerset

, and following a winter of widespread coastal flooding a salutary reminder of the power of the sea.[back]