I am travelling on the train from Birmingham to Cardiff along the banks of the Severn; the river spreading, sand-bank strewn, to the left.  Soon we will pass Chepstow and thirty minutes later into Cardiff, the distance it will take me two days to travel by foot on Thursday and Friday.  We say time is money, so are the miles travelled in two days more valuable than the miles travelled in half an hour, or the other way round?
Although I've not started walking yet, already time and space become confused or interchangeable in my mind.  On Sunday, Steve Gill mentioned Newgale Beach and instantly I thought 'late June' (when I arrive there walking).  On my first day's walking, the day after tomorrow, I will call at the West Usk Lighthouse, where they have offered me tea and cake, and where they have a Dalek (joy) and Tardis.  Journeys are time travel.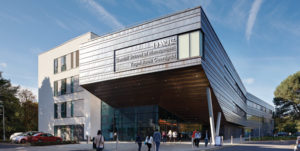 Tomorrow evening I will, in a sense, start the walk psychologically as I am giving a public pre-walk lecture at Cardiff Metropolitan University's Llandaff Campus.  This will be a great joy, partly because of current collaborations with Steve and others at Cardiff School of Art and Design and partly because of childhood associations.
I am a professor in computing, but my computing A'level was studied and examined in the Llandaff site of what was then an FE college.  At that point Computing was not a standard school subject, but one of the lecturers at the then FE college taught a Friday afternoon computing class to a number of pupils from Bishop of Llandaff High School and Peter Lloyd and myself from Howardian Comprehensive.
Our studies there were not unconnected to walking as each Friday took us rain or shine on a long trek from Roath Park through the streets of Cathays and across Llandaff Fields to the campus at Western Avenue and back; once accosted, menacingly by two policemen in a Panda car driving down the footpath.
Because we were studying at the FE college, we had access the library and in particular there were maths books (joy), some clearly not suitable for the vocational courses that were then taught.  I have a feeling one or more of the lecturers suggested books to read themselves rather than for their students.  This, along with the Saturday morning Open University programmes (so, so sad when they went off the air), was instrumental in my own learning of maths beyond the school curriculum.  I am sure this was in turn helpful when I later sat entrance exams for Cambridge (not common for a comprehensive school), won a scholarship and through that was invited to take part in first the British Mathematical Olympiad and later the British team to the International Mathematical Olympiad in Romania.
It is many years on, the FE college is gone and the site is now part of Cardiff Metropolitan University, but it is fitting that the place that played such a strong part in my own academic career, is now the start point for a new journey.