People have often asked me, both during and after the walk, about its impact on my general health and fitness.  The answer depended a lot on the point in the walk I was asked, but now, when my body has had a chance to recover, I can unashamedly say yes, the impact is major, but not necessarily in the ways I had expected.
I'll spare you the before and after pictures, and give the blow-by-blow account, but as a sneak preview, it ends with 200 push-ups at a ceilidh.
I'll start with the base point.
I live my life behind a computer screen or the wheel of a car, and for many years relied on a good general level of fitness as a child.  I was never a sportsman, partly because I was not particularly athletic, and partly because I needed to help my mum with her job as caretaker at the church and this pretty much precluded any after school activities However, in my late teen years I would regularly go for a run each Saturday morning in between watching Open University programmes and shifting hundreds of chairs and tables at the church.
As well as regular runs, I used to walk everywhere as a child, as I generally could not afford buses.  On one occasion this involved dragging old mattresses several miles to the local waste disposal site, with only the wheeled frame of a shopping trolley to help.  However I also used to walk for pleasure, out of Cardiff to the hills or sea shore beyond on my own or with a friend.  This would start with an hour or two to get clear of the city before walking in the countryside, and a day of 20 miles was normal.
But that was all 35 years ago.  Since then exercise has gradually shrunk to the tapping of computer keys or dashing back and forth down university corridors, often leaving passers by spread flat against the walls for fear of being knocked over.
When we moved to the island I started to run regularly on the beach for about three months … and then I started travelling again, stopped running and never restarted.  Between that and the walk there were a few sporadic, and maybe precipitous to the point of foolhardy, attempts at exercise.
After 18 months of indolence I was going to be on Tiree during the annual Tiree 10K, so, with a grand total of two practice runs, I entered and, to be honest, while running thought I was not going to make it to the end.  Buoyed by the knowledge that lack of preparation does not guarantee fatal consequences, six months later I cycled the Cumbria–Newcastle coast-to-coast with Miriam, not having cycled up a hill for 15 years.
My next feat of fitness foolishness came six months later again, at the next Tiree 10K.  To be fair this time I started to train well in advance (three weeks), partly because I was to be away at a conference just before, so needed to be able to leap from the plane and run pretty much straight away. In ten days I worked up from nothing to running a half marathon distance (which did amaze me, even though it did take weeks to wash the blood out of my T-shirt); at this point my Achilles tendon had had enough of this treatment and decided to teach me a lesson.
However, while I was indisposed for the spring 10K (the pain of hobbling across Gatwick airport is still fresh in my memory), last December there was a winter 10K on the island.  Avoiding my over-preparation mistake of the spring I returned to my original exercise regime, two practice runs then enter, and survived without intimations of death at any point — clearly the long-haul intermittent hell strategy does have positive effects on the body.
After this I intended to do lots of practice walking through the winter in preparation for the walk, both for body fitness and to get used to walking in bad weather — I spend my life trying to stay 'comfortable', I needed some discomfort training.  Well this was the intention, but well … walking takes a lot of time, and I always feel too busy …  the pattern should be familiar by now.  Three weeks before I was due to leave the island I started some practice walks.   Tiree is pretty flat, but there is Ben Hynish with the radar golf ball that sees civil planes safely across the Atlantic.  I intended to practice walking up Ben Hynish, but …
The long and the short of it is I started out walking 1000 miles around Wales with a grand total of two weeks preparation (the last week was Miriam's wedding).  If I was going to get fit it was going to be 'on the job'.
I expected some pain early on and then to get fitter and fitter during the walk, so that by the end I would be like a mountain goat gambling up hills as if I didn't notice them.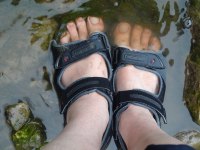 To some extent the part up Offa's Dyke went like this.  Day three was the hardest, long, low on food and water (yep, I know that should never happen to a well prepared walker, I was in the Scouts, I know the theory!), and the first time I had walked any slope for years … and by slope here we are talking just 1 in 10.  Amazingly my actual feet survived the whole way with virtually no blisters.  I used the grand total of two Compeeds (plaster + padding) and three elastoplasts during the whole walk and two of the latter were for bramble cuts.
As expected, by the time I got to the last day of Offa's Dyke I was striding up Moel Famau, the highest point of the Clwydian Range, effortlessly passing other walkers along the way.  I realised I had become one of those really annoying people who make it all look too easy.
However, any danger of smugness was shattered by North Wales.
The North Wales path from Chester to Bangor is along a flat sea coast, barely rising a few meters for its entire length; indeed for much of the distance it runs along seaside promenade.  I had thought this would be an easy stroll after the hills of Offa's Dyke, but the flatness was nearly my undoing.  On my first full day of walking I got some sort of tendonitis on the top of my left foot and it swelled up like a balloon.  I think it was due to the regular unchanging nature of walking on the flat, constantly using the same muscles, the same tendons, in the same way.  I swopped into sandals, not knowing if it would help, but worried this might be the end of the walk.  However, the increased flexibility of wearing sandals made all the difference and very gradually the swelling eased.  When a week or so later someone looked at my still slightly swollen ankle and said "you I can't walk on that", I said "you should have seen it a week ago"; I felt I'd managed to work through difficulties and win through.
So no longer a mountain goat, but I guess still a little smug.
Not long after, that also changed.  From about the third way point, and especially as I got to half way, things got harder and harder.  Long term strains and pains started to set in, I couldn't bend at the knees, different joints and muscles would hurt, and the knowledge that I still had as much to do weighed down on me.
Instead of a mountain goat I felt like a geriatric.
Over recent years I have run further than I had as an 18 year old, I can lift heavier weights and now was clearly walking far far further.  But when it comes to repair youth wins; I was doing damage faster than my body could strengthen itself and was seriously worried that I was causing permanent injury.
I was sleepy tired because I was walking, writing and tending technology for 18-19 hours a day, I was physically tired, and hurting, depressed as I wasn't getting as everything done that I intended, and worrying that I wouldn't get the miles in to get me back to Cardiff on time (see my poem 'Tired' for a hint of the feelings, written when I was 'on the mend', but still feeling the fatigue)
With no mental or physical reserves, the only thing that kept me going was the knowledge that I had decided to do it.
In a race they talk about the wall.  In a marathon it may last half an hour, in an Ironman several hours, but here day on day, week on week, and yet slowly, I came out the other side.
The physical pain did not go away straight away, nor the stiffness, but gradually things got better.  This was partly the result of wonderful people I met along the way, partly that the path got easier (Ceredigion coast path is wonderful), and partly that I did try to take some full or part rest days.
And after the initial worries about getting sufficient miles under my belt, I ended up 'front loaded', so that the last quarter of the walk I could average less and less miles each day, and my body could start to recover.  By the time I finished in Cardiff it was really just the soles of my feet that still hurt.
Now, more than six weeks on, even these are beginning to heal and last weekend I did my first two runs since the winter 10K , and it was easy.
I have not forgotten the pain and intense weariness of the middle times and yet, if there were no constraints of work or money, I would start again today, maybe going the other way round, or maybe walking somewhere else.
However, it is not with the slowly healing soreness of my feet that I want to end.
I had expected my lower body to toughen up and my legs and gluteus are indeed firm.  After a few days when my blood sugar dropped I worked hard to eat plenty, so I only lost a little weight, but have clearly converted some excess fat into muscle.  My belly is no rippling six-pack, but under the hair and fat (aren't you glad no pics) clearly more toned.
I also expected that the inevitable calorie deficit would eat into my upper body if I wasn't careful.  I deliberately took a Bullworker along so that I could do a little exercise, but never had time and it sat unused.
When I got home I decided to see how my arms had fared through the neglect.  Before I left, if I occasionally did some press-ups I could manage 20 with a struggle on a good day, but that was the max.  But now, when I got down I powered through 20 and at 30 was still feeling fine. When I tried again on subsequent days I got to 40 and then 50 press ups.  It really does sound like one of those food supplement adverts, except instead of 'instant' fitness this took 100 days of toil!
I think this is all down to the long-term cardio-vascular exercise of walking.  It is known to be one of the best ways to strengthen heart and lungs.  I wish now I had taken a peak flow meter to see how my lung capacity changed, but hopefully when those who know how to analyse my bio-data look at it, that may reveal some of the changes.
Looking back I also realise just how efficiently I worked during the walk.  On top of 8-10 hours walking each day, sometimes driving or public transport time on top of that and an hour 'tending technology' (charging, copy data, etc.), I was also writing around 2000 words a day, that would be a good rate if I were doing nothing else.
A recent study took children with ADHD and tested their attention span after 20 minutes walking.  It was as good as when they took the standard dose of medication.  Physical exercise is as good for the mind as it is for the body.
Finally, and what made me want to write this, was the experience at the HCI conference last week.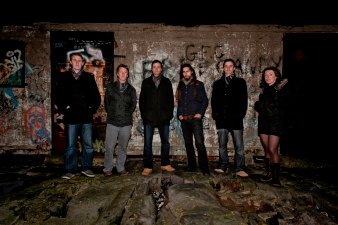 On the Thursday evening there was a ceilidh after the conference dinner.  A wonderful band, Modhan, had travelled down from Edinburgh to play for us.
After the first set I we all went back to our places breathless, while the band played a few non-dance tunes.  I was feeling exhausted, but wondered how my strangely altered body would fare when word out like this.  In a secluded corner I arranged some chairs so I was not too obvious and started to do push-ups; the last half dozen were hard, but I got to fifty.  After the next set I did the same and fifty again, then the third set another fifty.  Towards the end of the evening well after midnight a fourth set of fifty, two hundred in total amongst the ceilidh dancing.
I did wonder if this was the effect of the copious wine and that I would be unable to move in the morning, but in fact, the only pain was a soreness in the calves from the dancing.
I am still amazed at this alien body I have been transposed into.
I'm sure you'd get 90% of the benefit from a simple 20 minute walk each day and avoid the pain. This coming year is going to be very busy, so I am certainly hoping I can maintain this unexpected fitness without doing a 1000 mile walk every year.
Indeed signing up for Will (resident Tiree Ironman) Wright's autumn circuits sessions now 🙂
… but then there is always 2015