an unexpectedly glorious day, Fairyland and choral evensong
23rd June 2013
miles completed: 723
miles to go: 335
This was a day that I expected to be beautiful in terms of scenery, without much happening.
It was time to leave the sea-edge campsite at Parrog, Newport.  It had a reel of garden hose at the water standpipe, which made refilling the van water easy. So, with toilet emptied, rubbish in the various recycling bins and water filled, I set off.
Today was only going to be a short walk from Goodwick, where I had stopped the previous day, to Strumble Head. This broke up the otherwise very long stretch of coast without a village, but was short enough to do and still get to St Davids in time for the choral evensong at the Cathedral.
I was aiming to park at Strumble Head, then catch the 'Strumble Shuttle' coastal and walkers' bus back to Goodwick. I was at Goodwick not long after 9am and the bus did not pass Strumble Head until 10:28, so I had time to stop at the Beaches Diner at Goodwick, opposite the bus stop. I had spotted this the day before, although it was closed when I got to Goodwick.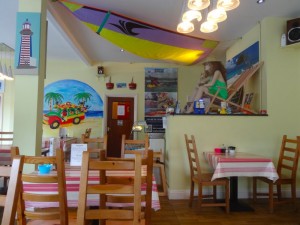 Happily it was open and did a wonderful breakfast, two eggs, two thick rashers of bacon, two sausages, beans, hash brown, toast and tea all for a fiver. I called in for a second cup later when the bus brought me back, and only at that point noticed that on the back of the menu it said that all breakfast items were sourced in Pembrokeshire within 15 miles of the café. For the bacon it told you the butcher and for the free range eggs the farm they were produced.
I love 'caf'-style cafés, with Formica tables and basic food, but these often use freezer-pack sausage, etc.  Here is a 'caf'-style place, with a 'caf' level of prices, but with restaurant-quality ingredients.
I typed a little while, eating my breakfast (and it was good to taste even before I realised it was also good for me and the environment!), and then drove off to Strumble Head to park the van and get my boots on.
When the bus arrived I hurried from the van in case it left without me, but need not have as there were a lot of people getting out. Amongst the first was an old gentleman with a wooden walking stick. Although I have seen many quite elderly people walking along the Coast Path, I thought he didn't look quite up to this, but in fact he got back on the bus, he had just got off to stretch his legs.
Initially we were the only people on the bus and as we travelled he told me about the things along the way.
He pointed out the road to the church where he once, on a very clear day, saw across to Ireland; he said the Mountains of Morne, but I think from here it would be different mountains. He showed me a house where the yard in front was filled with old Morris Minors. I mentioned the old Chevrolet, he of course knew it, and as we went past he pointed out that on the other side of the lane was a collection of American cars of the space-age wings and drive-in movie variety. There is evidently an antique car rally at which both exhibit.
He also pointed out the house of the chair of the county show, who, I am told with the faintest hint of disapproval, "does not take the bus".
"How long are you staying?" he asks, "You must see the Invasion Tapestry."
I tell him I have seen it already, when I first came to Fishguard when the girls were little, but also that I had been disappointed not to see the Cardigan cardigan.  This was a cause of sorrow for him, he seemed to know people connected with it, and I think had already been telling them it should be on display.
"It is as high as this bus," he said, "with coracles and villages around."
He thought it should go in Cardigan Castle, and I told him to feel free to use my own disappointment to bring pressure on the powers that be.
The path from Goodwick heads initially up small steep roads past a memorial to those who have worked on the Goodwick railway, a building with 'Wincarnis, The great restorative, Sold Here', painted on its side, a street with an inordinate number of pubs, including one tiny one (The Rose and Crown) and the Theatr Fforwn Cymru, once a community centre, but now apparently disused.
The houses on the north side of the street will have spectacular rear views over Goodwick bay and the coast beyond, although I guess the closest thing is the ferry terminal.  There are evidently plans to create a marina within the breakwater here.
I take a little excursion to see the Garn Wen cromlechs, the remains of five-thousand-year-old burial chambers, but the hill is very overgrown, so I only manage to see the closest one. On top of the hill is a cross on some form of obelisk, but again I cannot get close enough to find out its story.
Continuing up the street, I see a house with a satellite dish, not unusual, but the satellite dish is painted in the Irish tricolour! Next door is a house with a small, but exuberant collection of garden statues. The biggest is of two boys playing leapfrog. Neither subtle nor designerly, indeed I'm sure both over the top and kitsch, but, so what, they are fun and brighten up an otherwise quite drab road.
As the road runs out there is a beacon and yet another cannon, and the real path begins.
This whole stretch of the footpath is easy in terms of the path, with the odd slightly precipitous cliff, but only for a short distance, and with firm footing. It is especially wide and well trodden near the Goodwick end, but fine for the whole length, which was welcome, as I wanted to be back at St Davids in time to park up the van and go to the choral evensong at the Cathedral.
So I walked along expecting the next stop to be back at the van at Strumble Head.
How do you capture an almost unbearably lovely place in words?
There was a sign on the path:
TEA & COOL DRINKS
FAIRYLAND 0,5 MILES
unofficial *
Home tea stop!
Dirty boots walkers and dog's welcome
THE GUARDIAN ANGEL PROJECT as seen on TV and radio 4 coverage …
*Please note Home GALLERY unofficial* tea
stop!  Voluntary donations.  Restrictions apply sign
book as our Friends.  No bureaucrats!  We are
uninsured and this cottage does not comply with
current health & safety
This sounded just what I'd been saying was needed since almost the beginning of the walk, small informal places to stop for just a cup of tea, and maybe a cake, biscuit or other snack. There had been the churches up Offa's Dyke that had offered free tea and coffee (although I think I always left a donation larger than if it had been in a shop!), but this was the first private example, except one farm selling ice cream near Oswestry.
Half a mile off the track meant a mile round trip, but this was so perfect and I was not in a hurry, so I set off up the footpath inland, just hoping that it wouldn't be shut!
The path was easy, and clear to follow, with just a very slight slope, and led to a small group of houses and a church, St Gwydaf's, Llanwnda, which I think might have been the one where the gentleman from the bus had seen Ireland.
I think the first thing I saw was the rainbow-coloured wind generator, and then, as I turned the bend into the hamlet, the boat, the Sea-Fury, brightly coloured, and, it turned out, originally built in 1860 but now with an engine converted to run off old chip fat. Then there was the garden, a glorious clutter of plant pots, bicycles, old cupboard drawers and a garden chair. I couldn't see the teas and wondered if it was closed, but then I saw the sign.
OPEN HOME organic
and another:
TEA COFFEE
and yet another shaped like, a cross between a duck and dog:
DOGS WELCOME
OPEN
NEW METHANE GAS
P.V. Wind
I followed the signs, and then found old road signs modified, lots of STOP signs: "STOP at Fairyland", "STOP TOXIC", "STOP & THINK".
I stopped and entered Fairyland.
It was the other end of the gloriously messy garden, but, while equally cluttered, not cluttered with the paraphernalia of life, more cluttered with a cornucopia of everyday and found objects turned into magic. Brightly painted plant pots, a shed with bright red drain pipe, a bell saying 'Please Ring', like Alice in Wonderland's bottle, a sort of gate to the open door made of old broom handle and car hub cap with a plastic rat on it.
I rang and entered. Maybe it would have been useful if I had had Alice in Wonderland's bottle as the entrance is very low.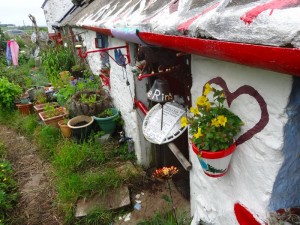 And inside, there is a worktop with kettles and a collection of mugs, tea bags, a fridge with milk inside, and small plate for donations. But everywhere else, anywhere your eye rested, another discovery, new paper cuttings, paintings, old china cups and jugs, a collection of snails made from seashells and clay and lots about energy and the environment. In the corner is an old solid fuel cooker, maybe a Rayburn, and on the far wall a wishing well, a stone trough inside the room with water bubbling into it.
I sign the book.
I am a Friend.
Sadly no one answered the bell, my wonderful hosts must be away for the day. Maybe in their zero CO2 car that is shown in pictures in one corner of the room.
As I leave I realise I am a little breathless and tears are in my eyes.
Fairyland at Llanwnda will go down with St Trillo's at Rhos-on-Sea, the Duke of Lancaster near Mostyn, and the little well in Anglesey as one of the wonders of Wales.
I note that two of these are holy sites, and I think that this Fairyland is also holy, because it is founded in love and giving and that is the sole criterion Christ gave for recognising his disciples.
As I walked on I reflected. I've found myself getting quite depressed over periods when I felt nothing was 'happening'; this included some very lovely areas. I am not a patient person, and the 'mission' of the walk is to learn (scholarship?), so if I don't feel I'm 'learning' in some way or other, I then feel I'm not doing my 'job'.
However, I have to learn that the long fallow periods are just as much part of the journey as the periods of intense harvest.
The point is not that something happens every mile that I walk, but that, by walking every mile, something happens.
As I get back to the path four people are at the point where the sign says about the teas, two are from Southern France, and two from Brittany (Wales in France!).  At first I think they are looking at the sign and enthusiastically tell them they must go up, but in fact they had already been as they were on a circular walk and had passed it earlier.  I am trying to remember the word the man used to describe it, perhaps 'singular'.  In fact they are just waiting for the teenager in their party.
"He is more courageous," they say, "and has gone on. To the invasion rock."
As I go on I meet him, running back along the track and greet him as he is briefly in earshot.
This is the very bay the French ships landed. It does not look hospitable. I can see that on a good day it is not a bad place to weigh anchor, and there is a small shingle beach to bring long boats ashore, but then those 1,400 men in heavy uniforms, carrying guns and goodness knows what other stores, would have had to climb the cliffs. They are mostly just very steep slopes, so not rock climbing, more very hard scrambling. I guess any better port would have people in it and maybe guns, like Fishguard Bay. No wonder they all got drunk after.
At the memorial stone is another couple, and I tell them too about the teas.
"Is it still there?", the lady asks.
"Yes," I say, "it is wonderful."
So she and her husband set off for him to see what all the fuss is about.
A while later, closer to Strumble Head I pass two young men, huge rucksacks on their back, and tell them.  They are excited, not by the place, just the idea of a cup of tea. I am guessing they have come all the way from Abercastle since their last place to get anything.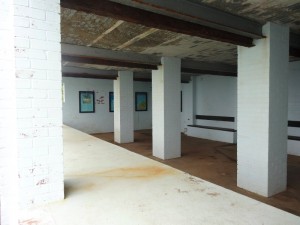 And so I get back to Strumble Head, taking time to look across at the lighthouse, the lamp periodically flashing, bright even in the daylight, and I go down to an old wartime lookout post, which, in my pictures, appears to be painted white, but I recall being very slightly off-white! It is now a Bird Observatory that Bill Oddie came to visit.
If I had walked here to wait for a bus back, then the Observatory would have been a good place to shelter, as even with the sun out, the wind makes it chilly to stand around. I am glad I have the van to get into.
Having parked up at a campsite in St Davids, I make my way to the Cathedral, the smallest in the UK. The Cathedral is set in a dip so you initially look down on it from above. When Viking raiders were out to sea, there were advantages to dips.  I stand looking down on it beside a gatehouse, or what I had always assumed was a gatehouse … until the bells started. In fact the 'gatehouse' is really the bell tower for the Cathedral, which happens to have a thoroughfare running under it. Although most British churches had bells in a tower within the church, separate bell towers are common; I can think of one in Cumbria where the bell tower is built on a hillside above the church to allow the bells to be heard more widely, and of course the Leaning Tower of Pisa is just the bell tower for the Duomo.
In days gone by, the soprano section of a Cathedral Choir would have been all young boys before their voices broke. Now, the choir sopranos are all teenage girls. I guess that even if you are a boy who likes singing, doing so wearing a dress every Sunday will not be good for street cred.
The service itself was good, but after Fairyland it had a lot to live up to. The singing was wonderful, but why is the Anglican preaching voice so soporific?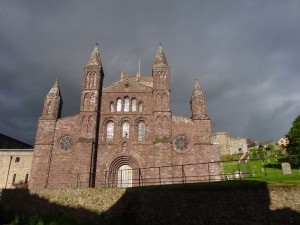 The service was focused around the feast of the nativity of John the Baptist (basically when the Anglican church celebrates his birth), and the readings were parallel texts: one from the Old Testament about the birth of Samson, the other from the New Testament on the birth of John the Baptist. Both were born under Nazarite vows: 'no razor shall be used on his head and he shall not have any strong drink'; well, I could manage the first of these.
Both Samson and John were wild charismatic figures, and John is fascinating: born within the establishment, and yet working outside it; a man with a great personal following, and yet always pointing away from himself to another. The facts came out, but I just wished that some of that charisma and excitement could break through the preacher's calm soft voice; if not for me, for the sake of the choristers whom I could see struggling to keep their attention.
I was brought up in the Methodist Church, the founder of which, John Wesley, was condemned by his Anglican peers as being 'too enthusiastic'; they could think of no more damning indictment.  So maybe the Anglican voice dates back a long way.
After the service I head for the fish and chip shop, but alas it is closed :-(. However, the small hotel/restaurant opposite is open and has free WiFi. Except that it is a Sunday evening and so the WiFi doesn't work; no Sabbath observance here, just that it is out of school hours, when the children start connecting to games, or downloading music and videos – I see the same in Tiree. But the food is good.
The TV in the bar has been on S4C, the Welsh language channel, but evidently only because the rugby was on earlier.
The landlady tells me about the area.
"They call it 'little England beyond Wales'," she says, "go a little way out of St Davids into the villages and they speak Welsh, but not here."
I ask if this is due to people moving here for retirement and things like that, but she says no, it goes back far longer, but she doesn't know why or when.
I wonder if the presence of the Cathedral has any bearing. Nowadays the Anglican Church in Wales has autonomy, but for many years it was controlled directly from Canterbury; so maybe the succession of English appointees shaped the town.
I notice later on the back cover of the book 'Candle in the Darkness: Celtic spirituality from Wales', that, at the time it was written, the author, Patrick Thomas, worked at St Davids. and amongst his responsibilities was 'assisting monoglot clergy to learn Welsh'.