As I first came into Kington a week ago, Yvonne, the lady who did not regard herself as 'local' living a mere 20 years in the town, told me that 'The Tavern' was the place to go. The youth hostel warden said the same, a small CAMRA pub, and a place to get a sense of real locals.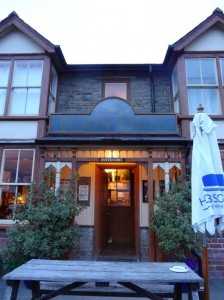 The Tavern is right at the edge of town, and looks more like a small late Victorian, or maybe 1920s villa, with double bay windows in brick. The sign declares it is a pub, but without it, I would have thought it a genteel residence.
In fact The Tavern's bays were added in 1899 and the original builder's bill is framed inside. The original building dates back to 1765, and is one of the oldest of the many pubs and inns in the town. I was told there were once twenty-seven, I guess as many per head of population as coffee shops in Italy or churches in a Greek village.
When the bays were added it was known as 'The Railway Tavern', serving the railway that once led on to the quarries in the hillside to the south west. One of the locals (lived there all his life!) said that there had been a horse- drawn tramway before the railway, taking limestone away and bringing loads of coal up from South Wales. The railway was closed in 1963 as part of the Beeching cuts.
I noticed that The Tavern had won best small pub from CAMRA and clearly had its own sense of community, with 'outings' including a recent green bowling day.
Kington seems caught between two worlds; there is the sense that things have hardly changed since the 1950s, with small bric-a-brac shops and shop fronts that feel they belong to a sepia photograph, but also signs of the new century: a delicatessen, a sign announcing the coming of a new arts café. Just opposite is the Regency (aka "Dot's") where I had two amazing breakfasts, but which has a 'For Sale' sign hung outside. I asked Dot the next morning and found she is retiring, and hoping that it will be bought as an ongoing business, but it's a reminder that even local institutions can change.