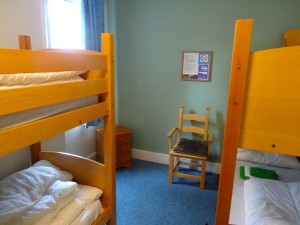 I wake up in Kington Youth Hostel with a feeling of accomplishment. The first phase of the walk is complete and I now have a week at CHI in Paris before I recommence back here at Kington in a week's time. Originally I planned to start after CHI, which would have given a lot more time to prepare after Miriam's wedding, but then decided timing was a little tight and it would be good to get some miles 'under my belt'. Despite the near panic packing in two days, this was a good decision.
Today I will travel by bus and train to Monmouth. I must admit I avoid public transport as much as possible, so the walk is also re-introducing me to this. Travel along Offa's Dyke is especially difficult as the main transport lines seem to cut east-west across the north-south line of the dyke. However Kington is relatively well served by buses and I can take a bus to Hereford and from there to Monmouth.
I have breakfast at The Regency Café, £4.50 all in and huge … the sign by the kitchen hatch reads:
Annoying the Cook will result in smaller portions!
I have evidently not annoyed her.
Later in the morning I am in Hereford Bus Station with a real rambler, Margaret whom I met on the bus from Kington, where she too was staying at the YHA and the source of the lovely bacon smell in the kitchen this morning. Margaret now takes more leisurely walks, but in the past has walked the South West Coast Path, West Highland Way, Hadrian's Wall and others.
Margaret is a veteran of Youth Hostels and talked about the way many had closed over the years. For me this was my first YHA, but I recall the many red triangles I used to see on OS maps compared to what looks a sparse scattering on the map of Wales today. Margaret said that modern health and safety regulations had been a major problem as it was too expensive to upgrade some of the smaller hostels. Her son had been an environmental health officer, and had often felt constrained by rules and unable to use his discretion and, in cases like this, or Elephant's End on Tiree, plain common sense.
After finishing our cups of tea and coffee at a great bus station 'caf', and a quick trip to slightly space age unisex public loos, complete with round frosted porthole in the door, to the bus stands where Margaret found that she had another half hour to wait as she's missed the footnote that said the bus she'd hoped to catch stopped short of Worcester. So we took our leave, she with three more buses to catch to Worcester, Birmingham and then Dudley, whilst I stepped on the bus for my simpler journey on to Monmouth. However, Margaret had been pleased to point out that her journeys were free with her senior citizen bus pass. Together with staying at YHA, this makes a very affordable holiday on a pension.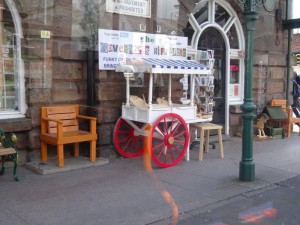 On the bus through Hereford's black and white timber-framed streets, I hear the elderly ladies behind talk about borrowing eBooks from the local library to download to their iPads. I had never thought of this! I have an aversion to eBooks. I sometimes say that this is simply because the word eBook is an oxymoron, but actually I could imagine reading a novel on a pad-size screen. It is really issues of ownership that worry me. I have nearly all the books I've ever owned, but how long will an eBook be readable?
The rolling fields around Hereford give way to narrow lanes through wooded valleys and the bus squeezes towards the holly-edged bank, leaves pressed tight against the windows, as a JCB passes in the opposite direction.
Into Monmouth and a quick trip to Waitrose (there's posh) for a pint of milk. I still have my rucksack with banner on the back and when I mention technology to the cashier she says, "you know Monmouth is the first Wikipedia town", but then, ""I heard about it, but not got the app yet." To be fair I don't have a QR code app, I keep meaning to, but never get round to it, and wonder just how many people have a QR reader; the codes look impressive, but do they actually help people connect?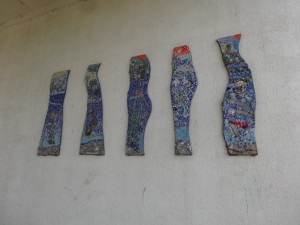 I recall one of the meetings of the Nesta-managed Arts and Culture R&D Fund. I think it was the National Galleries project who said that they had originally intended to use QR codes for their mobile app. However, after surveying their visitors, in the end they opted for simple numerical codes to type into the app as few visitors were able to scan QR codes. Why UK phones aren't supplied with QR code scanning as standard like Japanese phones, I don't know, but until they are QR codes will remain more an icon to say "we are tech savvy", but not a practical way to access information.
Of course, even if you can read QR codes, you need internet connectivity. I found no O2 coverage in the town, and Vodafone just has some 'Edge' connection. Although there is a scheme to provide town-wide WiFi the practicalities of mobile technology outside major urban centre are not easy.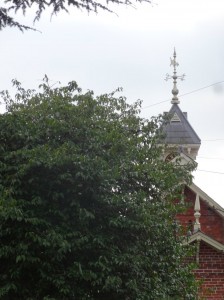 Later with laundry left at Rub-a-Dub, I visit Daybridge House, home of the Bridges Community Centre that hosts around a dozen different community events a day from French and the Floral Society, to Nordic walking and Zumba. Ann, one of the staff, introduced me to Georgie and Gilly, who organise the weekly tea dance. Happily for my feet the tea dance has ended, so they just pour me a cup of tea and chat. Georgie started the tea dances seven years ago bringing together all ages, from a 94-year-old who dances solidly for an hour to four-year-olds.
There are a number of small units in a courtyard. In one is the local provider of mobility scooters, packed together like a quarter-sized car park. The man there tells me that as I set off out of town on Offa's Dyke earlier in the week I will have passed Bailey Pit Farm at the end of Watery Lane which he informed me was haunted.  Happily, the caravan site I'm staying in is not.
In Monmouth, the Wikipedia town, I now want to find a café where I can get WiFi connection to upload blog and pictures.  The first place I try has none, and the lady there suggests another.  If I stand outside the Shire Hall there is the free open WiFi, but with it threatening to spot a little rain not the most sensible thing to do with a laptop.  In the end I find a café close enough to the Shire Hall that a little of the Monmouth WiFi sneaks in and I end up chatting camper vans with some other customers and the lady on the till.
Back at the campsite I have another wonderful evening at the caravan site club house.  I discuss quantitative easing with Malcolm, discover that Pat can trace her ancestors back to Llewelyn and learn how John had the opportunity to take a small recording contract back in the 1960s, but backed out to stay in a secure job with safe money.  Part of him always asks, "what if?" But look at me walking now; it was a childhood dream.  Maybe it is never too late.