I've already blogged about the hand-drawn map that Esther gave me for Christmas, and said that many of my Christmas presents were connected with the Wales walk … well here are the rest!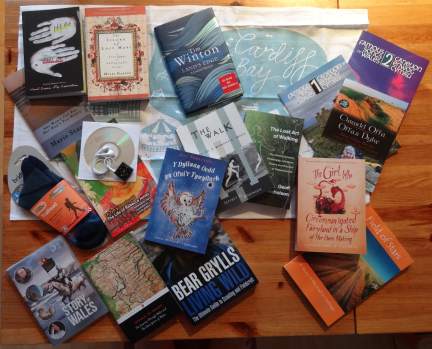 Most are books, some about walking, journeys and the coast, some about Wales and some to help me learn Welsh (I did some in school and even went to Urdd camp in Llangrannog one year, but really only a smattering).  I've not read any of them yet, except "The Valley, The City, The Village", which is missing from the photo above as I am part way through reading to and it is by my bedside!  So hopefully I'll have more to say about each when I get beyond their covers and flicking through.
Here and There: A Curious Collection from the Hand Drawn Maps Association. Kris Harzinkski.  A book about individual maps, like Esther's, from back of the napkin sketches to works of art.
She Won't Get Far Her Bag's Too Heavy. Marie Stamp.  A woman's walk around the South West Coast Path, with just her dog and a (heavy) rucksack.
Y Dylluan Oedd yn Ofni'r Tywyllwch. Jill Tomlinson (trans. Meinir Wyn Edwards).  A Welsh translation of "The Owl Who Was Afraid of the Dark", which we read endlessly to the girls when they were little — hoping I can get my Welsh good enough to read this!
O! Tyn Y Gorchudd / The Life of Rebecca Jones. Angharad Price (trans. Lloyd Jones).  A prize winning short novel with parallel text in Welsh and English … somewhat more advanced language than "Y Dylluan Oedd yn Ofni'r Tywyllwch"!
The Island of Lost Maps: A True Story of Cartographic Crime. Miles Harvey.  The true story of a map thief.
The Girl Who Circumnavigated Fairyland in a Ship of Her Own Making. Catherynne M. Valente.  Well apart from being fairyland in a ship rather than Wales by foot … just like me.
Land's Edge: A Coastal Memoir. Tim Winton.  A celebration of the shoreline.
Field Of Stars: A Story of the Road to Santiago. Susie Tarver.  This ancient pilgrim's route from the South of France and across the North of Spain is one of the world's great walks and a personal and spiritual journey as well as a physical challenge.
Gerald of Wales : The Journey Through Wales and the Description of Wales. L. Thorpe (trans.) The journal of Giraldus Cambrensis' missionary journey through Wales in 1188.
The Lost Art of Walking: The History, Science, Philosophy, Literature, Theory and Practice of Pedestrianism. Geoff Nicholson.  A broad sweep through the idea of the walk.  In some way's covering similar ground to Solnit's "Wanderlust", but I think Nicholson will be a little more down to earth and certainly a different perspective.
The Walk: Notes on a Romantic Image. Jeffrey C Robinson. A literary criticism of the literature of walking.  The book includes an afterword by Roger Gilbert, which describes how he was initially dismayed on hearing about Robinson's book as it was a topic he was working on himself, but then was enchanted by the book when it arrived.  I looked up Gilbert's web page and found that not only had he gone on to write about the literature of walking, but had co-edited a book "The Walker's Literary Companion" with Robinson.
Clawdd Offa / Offa's Dyke. Alun Wyn Bevan.  My own walk will start by going up Offa's Dyke.  This short dual language booklet relates Bevan's own walk along Offa's Dyke and for me both a guide and more help with my Welsh.
Famous Songs of Wales: 1 / Caneuon Enwog Cymru. arr. John Hywel.   Famous Songs of Wales: 2 / Caneuon Enwog Cymru. arr. Sioned Webb.  To be Welsh is to sing!
Living Wild: The Ultimate Guide to Scouting and Fieldcraft. Bear Grylls. In case I find myself without a B&B in the wilds of Colwyn Bay and need a makeshift shelter of old fish and chip packets.  This book has already proved its worth, as I quoted from it at a church service last Sunday; as well as being an ex-SAS serviceman and Chief Scout, Grylls includes a short but direct account of the importance of spirituality to his life.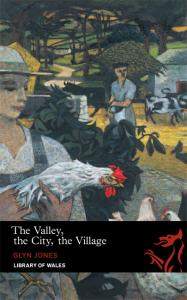 The Valley, The City, The Village. Glyn Jones.  A story of growing up into adulthood set in the Welsh valleys and through university in 'the city' (I think based on Aberystwyth).  Sometimes almost Dickensian in the detail of description, but with more the eye of a poet or indeed almost the artists eye of the protagonist. … and I needed to keep OED to hand as occasionally the English vocabulary is stretching 🙂
As well as these books and Esther's map, I had some walking socks, a Cardiff Bay teacloth, a DVD of the BBC/OU series "The Story of Wales", which we missed when it was on, and a little black iPod shuffle.  The iPod is for my training walks during the winter and Fiona also downloaded the lessons at Say Something in Welsh for me to listen to whilst walking 🙂