This is the original website home page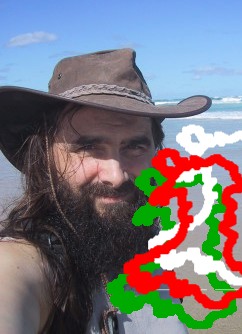 From mid-April to July 2013 I will walk the complete periphery of Wales, following Offa's Dyke through the borderlands, then along the Welsh Coastal Path.
The walk is a personal journey, but also a technological and community one, exploring the needs of the walker and the people along the way.
In May 2012 a long distance footpath was opened around the entire coast of Wales.  Together with the existing Offa's Dyke long distance footpath, this creates a virtually unbroken thousand-mile route around the whole periphery of Wales
During the three months in 2013, I plan to walk this route, deliberately at a slow pace in order to allow time for writing, IT development, speaking engagements and discussions with communities and academia en route.  This will not be the first such circumlocution, but it will be unique in its technical, social and theoretical aims.
This project will primarily address a dual practical and academic agenda:
To explore through personal experience the IT needs of the walker with particular focus on the use and limitations of mobile technologies in areas where mobile phone coverage is at best patchy.
To work with local communities in order to understand how IT might address their needs, and if not, what fundamental challenges this raises for research.
For both these aims the plan will be not just to understand issues, but to actively develop partial, prototype or fully functional solutions, in collaboration with research partners across Wales and the UK.
In addition, there are secondary aims:
To act as a living lab for research groups to experiment in areas such as body sensors, ubiquitous computing, and mobile infrastructure.
To offer talks, seminars and hands-on workshops at universities, community groups and schools along the route (conveniently most Welsh Universities are on the coast).
Finally, walking has a rich philosophical, political and personal history, so, as well as the community and technical agenda, I will also create a more reflective written and audio blog, as a precursor to a subsequent book.